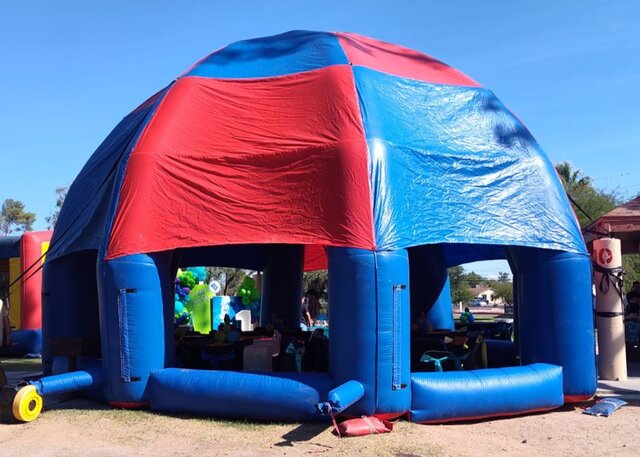 BLOW-UP SHADE TENT
Actual Size: 30'W x 30'L x 14'H




Welcome to Wonder World Jumping Castles, your go-to destination for party rentals in Tucson, AZ, and the surrounding areas. We understand the scorching Arizona sun and the need for shade, especially when you're enjoying outdoor gatherings in the park. That's why we're thrilled to introduce our fabulous Blow Up Shade Tent!
Picture this: You're hosting a party in one of Tucson's beautiful parks, and the sun is shining brightly overhead. As the temperature rises, you start to worry about your guests getting too hot and uncomfortable. But fear not! Our Blow Up Shade Tent is here to save the day and bring a refreshing oasis of shade to your event.
The Blow Up Shade Tent is no ordinary tent. It's an inflatable marvel that combines practicality and fun in one package. With its vibrant colors and eye-catching design, it will undoubtedly be the talk of the park and set your party apart from the rest. As your guests arrive, they'll be drawn to the cool shade provided by the tent, creating a central gathering area where everyone can mingle, interact, and have a fantastic time.
But it doesn't stop there! We understand that the Arizona heat can be relentless, so we offer an optional misting system to enhance the cooling effect. Imagine the joy on your guests' faces as they step into the shade and feel the refreshing mist gently kiss their skin. It's the perfect solution to beat the heat and ensure everyone stays comfortable throughout the day.
So, why settle for ordinary when you can have extraordinary? Make your next park party a shade-filled extravaganza with our Blow Up Shade Tent.
Remember, in the desert heat, shade is a treasure. Let Wonder World Jumping Castles bring the shade and the fun to your party. Book now and create an unforgettable experience for you and your guests with our incredible Blow Up Shade Tent!
Please note: The Blow Up Shade Tent is subject to availability. Don't wait, secure your reservation today and guarantee a cool and shaded oasis for your next event.