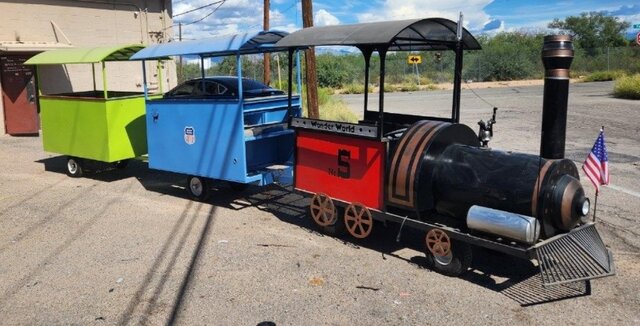 DELUXE TRAIN RIDE
Get ready for an extraordinary train adventure with Wonder World Jumping Castles! Serving Tucson, AZ, and the surrounding areas, we're here to make your special events truly memorable. Climb aboard our Deluxe Train rental and experience a journey like no other!
Our Deluxe Train rental is the epitome of excitement and charm. As the train chugs along, watch as smoke billows out of the smokestack, adding a touch of realism to the experience. And don't forget to sound the train horn, alerting everyone that a fantastic adventure is about to begin!
Step inside our Deluxe Train and be greeted by comfortable upholstered seats that invite you to relax and enjoy the ride. Our attention to detail ensures a truly deluxe experience for all passengers. Whether it's a children's party, a corporate event, or a community gathering, our Deluxe Train adds a touch of elegance to any occasion.
When you rent our Deluxe Train, you don't just get the train itself; you also get a skilled driver to guide you through the journey. Sit back, relax, and let our experienced driver take the wheel while you enjoy the sights and sounds of the train ride. Our drivers are friendly, professional, and dedicated to providing a safe and enjoyable experience for everyone on board.
Our Deluxe Train rentals are available for a minimum of three hours, allowing you and your guests to fully immerse yourselves in the enchantment. And if three hours aren't enough, you have the option to extend the rental hours for an additional fee. We want to ensure that you have ample time to create treasured memories with your loved ones.
At Wonder World Jumping Castles, safety is paramount. Our Deluxe Train rentals undergo regular maintenance to ensure optimal performance and safety. We adhere to the highest standards, providing you with peace of mind as you embark on your train adventure.
So, whether you're hosting a birthday celebration, a school event, a festival, or any other gathering, our Deluxe Train rental is the perfect addition to elevate the excitement. Book your train adventure today at www.wonderworldjumpingcastles.com and get ready for a truly deluxe experience.
Wonder World Jumping Castles: Where dreams come to life, one train ride at a time! All aboard! Click here for more!