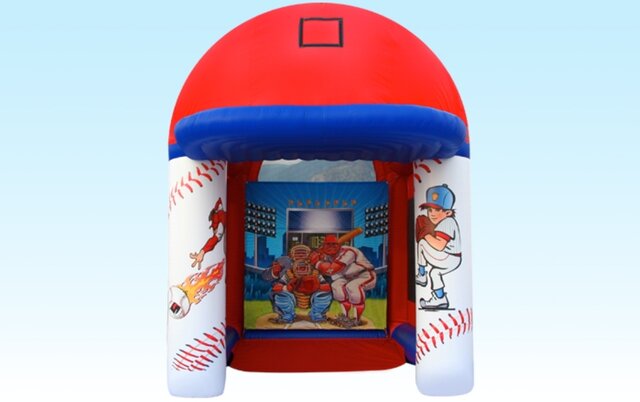 FAST PITCH NO RADAR
Setup Area: 40L X 20W X 25H




Get ready to step up to the plate and swing for the fences with Wonder World Jumping Castles! Serving Tucson, AZ, and the surrounding areas, we're your go-to destination for epic fun and unforgettable experiences. Introducing our exciting attraction: the Fast Pitch without radar game!
Inside our inflatable pitching dome, you'll find a world of baseball excitement. Immerse yourself in the game as you take your position on the pitcher's mound and prepare to throw your best pitches. With vibrant decorations featuring a charming picture of a batter, catcher, and umpire, along with a stadium backdrop, you'll feel like a true baseball superstar.
Our attention to detail doesn't stop there! Look to the sides, and you'll notice the pillars adorned with baseball-themed decorations. One pillar showcases an image of a skilled pitcher winding up for a powerful throw, while the other captures the intensity of a blazing fastball with fiery flames trailing behind. These visual elements add an extra touch of excitement and bring the game to life.
The Fast Pitch without radar game is perfect for baseball enthusiasts of all ages. Whether you're a seasoned player looking to refine your skills or a beginner eager to learn the fundamentals, this inflatable pitching dome offers endless fun and friendly competition. Step into the batter's box and swing for the fences as you challenge your friends, family, or colleagues to see who can hit the most home runs!
Ready to hit it out of the park? Booking the Fast Pitch without radar game is a breeze. Visit our website at www.wonderworldjumpingcastles.com to check availability and make your reservation. Don't miss out on this fantastic opportunity to bring the thrill of baseball to your next event or celebration.
Wonder World Jumping Castles: Where fun and sports collide! Step up to the plate, swing for the fences, and create memories that will last a lifetime with our Fast Pitch without radar game. Let the games begin!