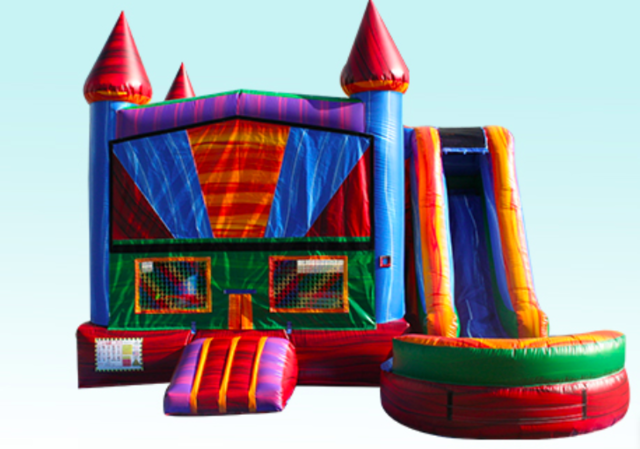 FIESTA COMBO
Actual Size: 20 × 18 × 16




Welcome to Wonder World Jumping Castles, your ultimate destination for inflatable fun in Tucson, Marana, Oro Valley, Vail, and other surrounding areas. We are proud to offer an extensive selection of top-quality inflatables and attractions, ensuring that your event is filled with excitement, laughter, and unforgettable memories. Our commitment to exceptional customer service, cleanliness, and the largest selection of inflatables sets us apart as the premier choice for bounce house rentals and family entertainment.
Introducing our incredible Fiesta Combo, a vibrant and enchanting inflatable that will transport your guests to a world of fun and celebration. Resembling a magnificent castle, this multi-colored masterpiece will captivate both children and adults with its festive atmosphere.
Step inside the Fiesta Combo and experience the thrill of bouncing in the spacious jumping area. Let your imagination run wild as you bounce, leap, and twirl to your heart's content. As you explore the castle's interior, prepare for an exhilarating adventure down the slide. Feel the rush of excitement as you glide down, making a grand exit from this extraordinary inflatable.
The Fiesta Combo is designed to bring joy to all ages, making it the perfect choice for a variety of events and occasions. Whether you're hosting a birthday party, a corporate gathering, or a community festival, this versatile inflatable will be the highlight of the day.
Flexibility is key when it comes to creating the perfect event, which is why the Fiesta Combo can be enjoyed wet or dry. At WonderWorld Jumping Castles, we are committed to providing exceptional service, top-quality products, and a safe and clean environment for all guests. We take great pride in our attention to detail and ensure that our inflatables are meticulously cleaned and maintained after each use, ensuring a hygienic and enjoyable experience for everyone.
Don't miss out on the Fiesta Combo! Book early as our availability fills up quickly.
Experience the thrill, joy, and wonder of Wonder World Jumping Castles. We are dedicated to making your event extraordinary and exceeding your expectations. Join us for an unforgettable celebration with the Fiesta Combo. Your next incredible adventure starts here.