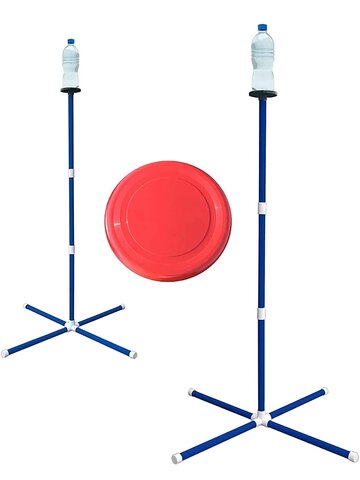 FLYING DISCS
Welcome to Wonder World Jumping Castles, the ultimate destination for fun and excitement in Tucson, AZ, and the surrounding areas! Get ready to elevate your outdoor gaming experience with our thrilling game called Flying Discs. Let the fun begin!
Flying Discs is a game that brings out the competitive spirit in everyone. Gather your friends, family, and neighbors for an epic showdown of skill and precision. This exciting game will keep you entertained for hours as you test your throwing accuracy and coordination.
But that's not all! Our game kit also includes the popular Polish Horseshoes variation, adding a unique twist to the competition. Whether you're using a water bottle, beer bottle, soda can, or any other beverage, the Polish Horseshoes kit takes your lawn games to the next level.
At Wonder World Jumping Castles, we believe in making every moment count. That's why we offer free delivery for orders totaling $75 or more. Take advantage of this fantastic offer by adding one of our amazing jumping castles to your cart. Not only will you enjoy free delivery, but you'll also add an extra layer of excitement to your event.
Please remember that there is a minimum order requirement of $75 for free delivery. Don't miss out on this opportunity to save and enhance your gaming experience. Add one of our incredible jumping castles to your cart and let the fun begin!
Wonder World Jumping Castles is dedicated to providing top-quality entertainment and exceptional service. We proudly serve Tucson, AZ, and the surrounding areas, bringing joy and excitement to every event. Whether it's a birthday party, a family reunion, or a community gathering, we're here to make it an unforgettable experience.
So, what are you waiting for? Grab your flying discs, set up the Polish Horseshoes game, and let the lawn games begin! Contact Wonder World Jumping Castles today and start creating memories that will last a lifetime. Remember to meet the minimum order requirement for free delivery by adding one of our fantastic jumping castles to your cart. Get ready for a gaming experience like no other!