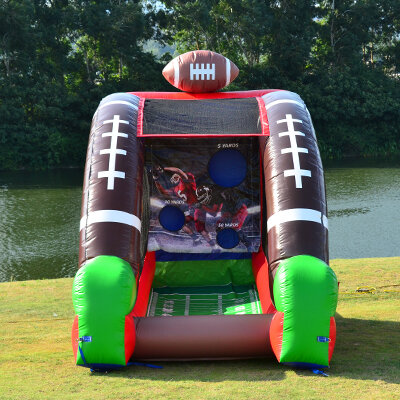 FOOTBALL GAME
Actual Size: 5'W x 13'D x 10'H




Welcome to Wonder World Jumping Castles, your ultimate source of fun and excitement in Tucson, AZ, and the surrounding areas! Get ready to unleash your inner quarterback and show off your throwing skills with our exciting Football Game—an inflatable carnival-like game that will take your event to the next level.
Step up to the challenge and put your throwing arm to the test in this football-themed interactive game. The objective is simple: score points by accurately tossing a football through the targets. Aim carefully, adjust your angle, and let the ball soar through the air as you aim for victory. With each successful throw, you'll feel a rush of excitement.
The Football Game is a fantastic way to improve your throwing accuracy, have fun, and engage in friendly competition. Whether you're a seasoned football enthusiast or just looking to have a good time, this interactive game offers endless entertainment for players of all skill levels. Challenge your friends, family, and colleagues to see who can hit the most targets and emerge as the ultimate football champion.
But the excitement doesn't stop there! At Wonder World Jumping Castles, we offer a wide range of sport-themed interactive games to complement your event. Consider adding our basketball, soccer, or baseball interactive games to create a complete sports experience that will keep everyone entertained for hours. From shooting hoops to scoring goals, our collection of interactive games will make your event a memorable one.
At Wonder World Jumping Castles, we are committed to delivering exceptional entertainment and ensuring the utmost satisfaction of our customers. Our Football Game and other interactive attractions are designed with safety, durability, and fun in mind. Each inflatable is meticulously inspected and maintained to guarantee a safe and enjoyable experience for everyone involved.
Wonder World Jumping Castles is proud to serve Tucson, AZ, and the surrounding areas with top-notch entertainment options. Whether you're hosting a birthday party, corporate event, school function, or community gathering, our interactive games will add a dash of excitement and create lasting memories.
Don't miss out on the opportunity to elevate your event with our Football Game and other sport-themed interactive games. Contact Wonder World Jumping Castles today and let our team assist you in selecting the perfect attractions for your occasion. Get ready to showcase your throwing skills, engage in friendly competition, and create an unforgettable experience that will have everyone cheering for more!
Remember, Wonder World Jumping Castles is your go-to destination for interactive games and entertainment in Tucson, AZ, and the surrounding areas. Contact us now to reserve the Football Game and other exciting attractions that will make your event a roaring success. Let's kick off the fun and celebrate your love for sports in style!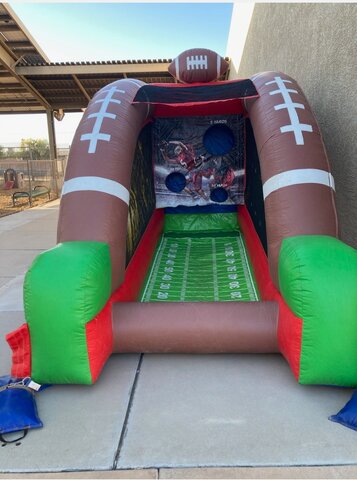 .