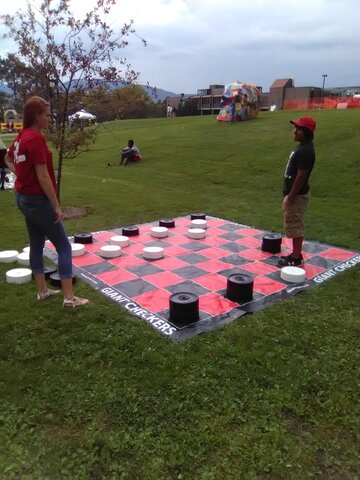 GIANT CHECKERS
Welcome to Wonder World Jumping Castles, your premier destination for unforgettable fun in Tucson, AZ, and the surrounding areas! Prepare to elevate your game night with our Giant Checkers. Whether you're planning a family gathering, picnic, birthday party, kids' church activities, classroom fun, or a BBQ, our Indoor Outdoor EasyGo Giant Checkers Game is an absolute must-have!
This larger-than-life checkers game takes the excitement to a whole new level, whether you're actively participating or simply enjoying the spectacle. Crafted from durable materials, our oversized checkers set is built to withstand countless rounds of play. The tear-resistant and rip-resistant plastic mat ensures longevity, making it suitable for both indoor and outdoor use. Transform your living room into a gaming haven or take the action outside to your lawn for a thrilling experience.
With the option to choose between traditional red and black pieces or the popular black and white ones, our giant checkers bring the classic game to life in a bold and eye-catching way. The oversized pieces are sure to spark conversations and add an element of visual charm to any gathering. Lightweight and easily portable, this game is designed for on-the-go fun. Wherever your next party or get-together takes place, our folding board game is ready to steal the show.
At Wonder World Jumping Castles, we're committed to providing exceptional entertainment options and service. We offer free delivery for orders totaling $75 or more within our delivery radius. Make the most of this opportunity by adding one of our fantastic jumping castles to your cart. Not only will you receive free delivery, but you'll also elevate the excitement and save money at the same time!
As the leading provider of fun and entertainment in the area, Wonder World Jumping Castles is dedicated to ensuring your experience is nothing short of amazing. We take pride in serving Tucson, AZ, and the surrounding areas with top-notch games and attractions.
Don't miss out on the thrill and laughter that our Giant Checkers game brings to any occasion. Contact Wonder World Jumping Castles today and let the games begin! Remember to meet the minimum order requirement for free delivery by adding one of our fantastic jumping castles to your cart. Get ready for a truly memorable experience for kids and adults alike!