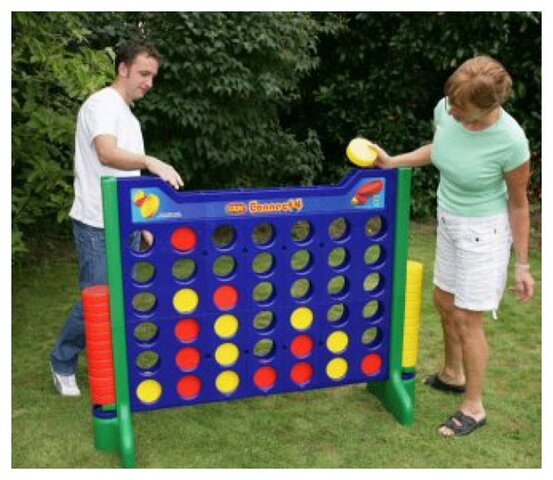 GIANT CONNECT 4
Welcome to Wonder World Jumping Castles, your go-to destination for endless fun and entertainment in Tucson, AZ, and the surrounding areas! Get ready to experience the excitement of our Giant Connect Four Game, a larger-than-life version of the beloved ring-dropping classic.
Children of all ages are captivated by this life-sized game, where the objective is simple: be the first to connect four pieces in a row in any direction to claim victory. But beware, it's not just about making your own connections, it's also about using critical thinking to block your opponent's path to success.
The Jumbo 4-To-Score game is an absolute hit at birthday parties, family reunions, community centers, classrooms, and after-school programs. It's a fantastic opportunity for young players to develop teamwork and cooperation skills while having a blast. The challenge is on as they strive to match four colorful rings in a row to secure their win.
This interactive game is perfect for two players, but can also be enjoyed in epic kids-versus-grown-ups battles when played with teams. Whether you're indoors or outdoors, the Jumbo 4-To-Score is designed to withstand the elements. Its fade and weather-resistant construction ensures durability, allowing you to enjoy countless hours of excitement.
Assembling and disassembling the Jumbo 4-To-Score is a breeze, making it convenient to set up wherever the fun takes you. With dimensions of 48 x 22.4 x 46 inches and a weight of 35.25 pounds, this game is perfectly suited for ages 3 and older. Adult supervision is recommended for an added layer of safety.
Rest assured, the Jumbo 4-To-Score has achieved GREENGUARD [GOLD] Certification, ensuring it meets or exceeds standards for low emissions into indoor air during product usage. It is also CPSIA-compliant, providing you with peace of mind regarding safety.
And here's some exciting news: We offer free delivery on orders over $75! So why not add a jumping castle, more thrilling games, or even some delicious concessions to your cart and save? Make the most of your event and create unforgettable memories without breaking the bank.
Wonder World Jumping Castles is proud to serve Tucson, AZ, and the surrounding areas, delivering top-notch entertainment straight to your doorstep. Our commitment to exceptional customer service ensures that your experience with us is nothing short of extraordinary.
Ready to elevate your event to new heights? Contact Wonder World Jumping Castles today to reserve your Giant Connect Four Game and explore our extensive range of party rentals. Let the competition begin and the laughter fill the air!