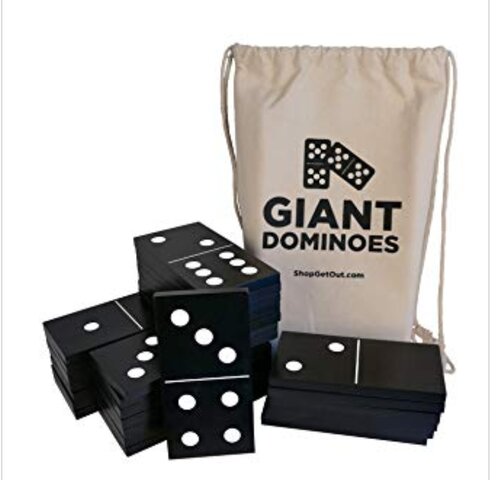 GIANT DOMINOES
Welcome to Wonder World Jumping Castles, your go-to destination for unforgettable fun in Tucson, AZ, and the surrounding areas! Get ready to take your game night to the next level with our Giant Dominos. It's time to shake things up and add a giant twist to this classic game.
With our Get Out! Giant Wooden Dominoes 28-Piece Set & Bag, you can play anywhere your heart desires. Whether you're enjoying a sunny day on the patio, having a camping adventure, or even spending a relaxing day at the beach, these oversized dominos are the perfect companion. Not only are they great for gameplay, but they also make eye-catching decorations for your event.
Our Giant Dominos feature jumbo-sized pieces measuring a whopping 3.5" x 0.5" x 7" inches (8.9cm x 1.3cm x 17.8cm). These giant pieces ensure that everyone can join in on the fun, young and old alike. The black-colored wood with white numbers adds a touch of elegance and enhances visibility, making it easy to see and enjoy the game.
Whether you're playing traditional dominoes, muggings, concentration, tumbling games, or exploring your own creative game variations, our Giant Dominos will bring hours of entertainment and laughter to your gatherings. Build towering structures and watch them tumble, or create your own rules and strategies for a unique gameplay experience.
At Wonder World Jumping Castles, we understand the value of creating memorable experiences. That's why we offer free delivery iin our delivery radius for orders totaling $75 or more. Take advantage of this opportunity to add even more excitement to your event by including one of our jumping castles, additional games, or concessions to your cart. Not only will you have a blast, but you'll also save money while doing so!
We take pride in serving Tucson, AZ, and the surrounding areas with top-notch entertainment options. Our commitment to exceptional customer service ensures that your experience with Wonder World Jumping Castles is nothing short of extraordinary.
So, gather your friends and family, and get ready for some giant-sized fun with our Giant Dominos. Don't miss out on this fantastic opportunity to create lasting memories. Contact Wonder World Jumping Castles today and let the games begin!