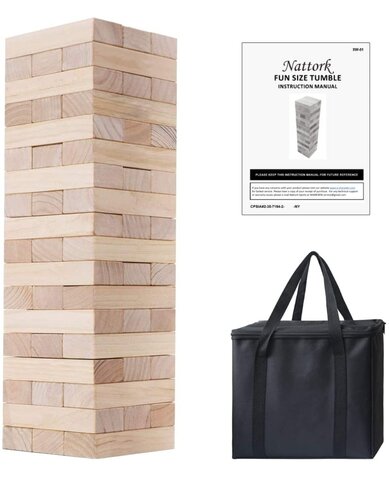 GIANT JENGA
Welcome to Wonder World Jumping Castles, your premier destination for the ultimate Giant Jenga experience in Tucson, AZ, and the surrounding areas! Get ready to test your skills, challenge your friends, and take your stacking abilities to new heights.
Introducing our Giant Jenga game, a larger-than-life version of the classic wooden block stacking game that guarantees hours of fun and excitement. The towering blocks start at an impressive 2 feet tall, but as the game progresses, the tension builds, and the tower grows taller and more precarious.
Playing Giant Jenga is easy, but mastering it requires strategy, a steady hand, and nerves of steel. Here's how to play:
1. Set up the tower: Begin by carefully stacking the wooden blocks in a sturdy tower formation, three blocks placed side by side in alternating directions on each level.
2. Take turns: Players take turns removing one block at a time from any level of the tower (except the top) and placing it on the topmost level. Use only one hand to maintain the challenge and keep the tower stable.
3. Keep it steady: As the tower grows taller, the blocks become more unstable. Be careful not to topple the tower! Take your time, assess the structure, and strategize your move.
4. Don't be the one to knock it down: The game continues as players take turns removing and stacking blocks until someone causes the tower to collapse. The last player to successfully remove and stack a block without toppling the tower wins!
At Wonder World Jumping Castles, we provide high-quality, durable Giant Jenga sets that are perfect for backyard parties, corporate events, family gatherings, and more. Our sets are meticulously crafted to ensure a stable and safe playing experience for all ages.
Looking to add more excitement to your event? We offer a wide range of engaging and entertaining attractions, including bounce houses, water slides, interactive games, and much more. Plus, take advantage of our special offer: There's a minimum order requirement of $75, so why not add more items and save? You'll maximize the fun and create an unforgettable experience for your guests.
Wonder World Jumping Castles proudly serves Tucson, AZ, and the surrounding areas, bringing the joy of Giant Jenga and a wide variety of party rentals right to your doorstep. Our team is committed to providing exceptional customer service, ensuring that your event is a success from start to finish.
Ready to take your event to the next level? Contact Wonder World Jumping Castles today to reserve your Giant Jenga game and explore our extensive selection of party rentals. Let the stacking, strategizing, and laughter begin!