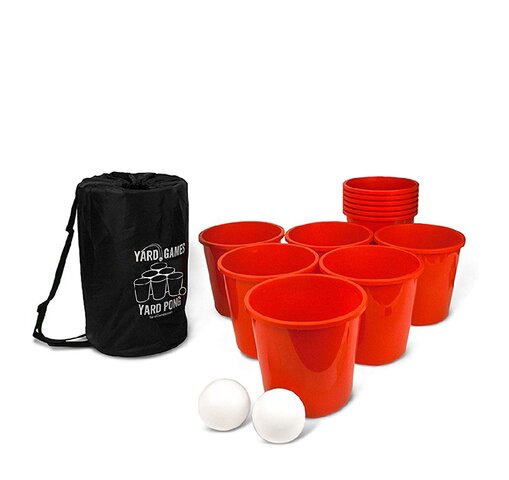 GIANT YARD PONG
Welcome to Wonder World Jumping Castles, your ultimate destination for unforgettable fun in Tucson, AZ, and the surrounding areas! Get ready to take your entertaining game to new heights with our Giant Yard Pong. It's the perfect choice for all your party and gathering needs!
Our Giant Yard Pong set is designed to bring the excitement of beer pong to a larger scale. This set includes 12 buckets and 2 heavy-duty plastic balls that not only bounce but are also incredibly durable. The buckets are an impressive 9 inches in diameter and 9 inches tall, resembling giant-sized Solo cups. The balls have a diameter of 3.5 inches, providing the perfect size ratio for an oversized beer pong experience.
We take pride in the quality and durability of our set. The buckets are crafted from 1.3mm thick plastic, ensuring they can withstand whatever you throw their way. Our balls are made with thicker plastic, making them more resilient than traditional wiffle balls. With Wonder World Jumping Castles, you can enjoy hours of entertainment without worrying about broken or damaged equipment.
Our Giant Yard Pong set comes with clear instructions and a high-strength carrying case featuring a convenient shoulder strap. It's the ideal game for group events, parties, camping trips, and more. Gather your friends and family and engage in epic battles of skill and precision. Giant Yard Pong can be played with 2-4 players, divided into 2 teams. To keep the buckets secure, simply fill them approximately 1/4 full with water, sand, or any other weighted material.
But that's not all! Our versatile buckets can also be used for a game of flip cup, adding even more fun and variety to your event.
At Wonder World Jumping Castles, we're dedicated to providing exceptional entertainment options and outstanding service. Take advantage of our free delivery within the delivery radius by meeting the minimum order requirement of $75. Add one of our fantastic jumping castles, additional games, or concessions to your cart and save while enhancing the excitement of your event!
Wonder World Jumping Castles is your go-to source for fun and entertainment in Tucson, AZ, and the surrounding areas. We're here to ensure your experience is nothing short of amazing.
Don't miss out on the thrill and laughter that our Giant Yard Pong game brings to any occasion. Contact Wonder World Jumping Castles today and get ready to take your party to the next level! Remember to meet the minimum order requirement for free delivery by adding one of our fantastic jumping castles, additional games, or concessions to your cart. Let the fun begin!