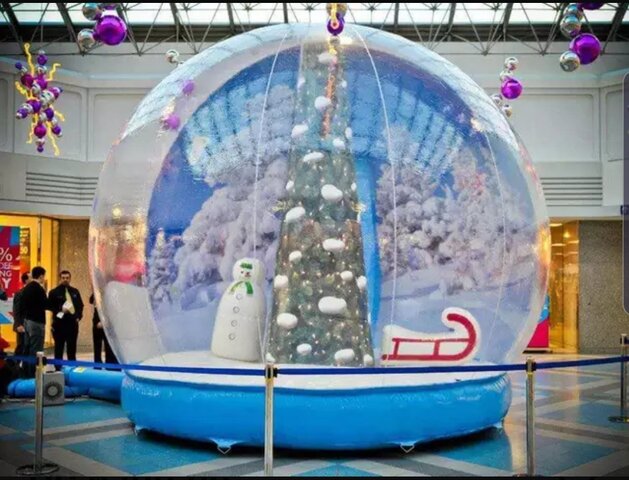 HOLIDAY SNOW GLOBE
Welcome to Wonder World Jumping Castles, your ultimate destination for unforgettable entertainment in Tucson, AZ, and the surrounding areas! Get ready to step into a winter wonderland with our enchanting Holiday Snow Globe.
The Holiday Snow Globe is not just an ordinary decoration—it's an immersive experience that will transport you to a magical holiday scene. Step inside the giant snow globe and find yourself surrounded by a stunning Christmas tree, a jolly snowman, and a whimsical sleigh. The backdrop features picturesque pine trees covered in a blanket of glistening snow, creating a picture-perfect setting for your holiday photos.
This unique attraction offers endless opportunities for fun and creativity. You can hop inside the snow globe for an interactive photo op, striking poses and capturing joyful moments that will be cherished forever. Alternatively, you can pose outside the snow globe and create beautiful memories with your loved ones against this captivating backdrop.
The Holiday Snow Globe is a must-have addition to your holiday parties, corporate events, or any festive gathering. It adds a touch of wonder and excitement that will delight guests of all ages. Imagine the joy and laughter as children and adults alike immerse themselves in the holiday spirit, surrounded by the charm and magic of the snow globe.
At Wonder World Jumping Castles, we are committed to delivering exceptional experiences that exceed your expectations. Our Holiday Snow Globe is meticulously designed and constructed to ensure a safe and memorable adventure for all participants. We take pride in maintaining the highest standards of quality and safety in all our offerings.
Don't miss out on the opportunity to create lasting memories in our Holiday Snow Globe. Contact Wonder World Jumping Castles today to reserve this extraordinary attraction for your upcoming event. Our friendly and dedicated team is here to assist you in planning an unforgettable holiday celebration.
Remember, Wonder World Jumping Castles is your trusted partner for exceptional entertainment in Tucson, AZ, and the surrounding areas. Contact us now to secure the Holiday Snow Globe and let the festive magic unfold!
Please note: Availability may be limited during peak holiday seasons, so we recommend booking in advance to secure your desired date and time.