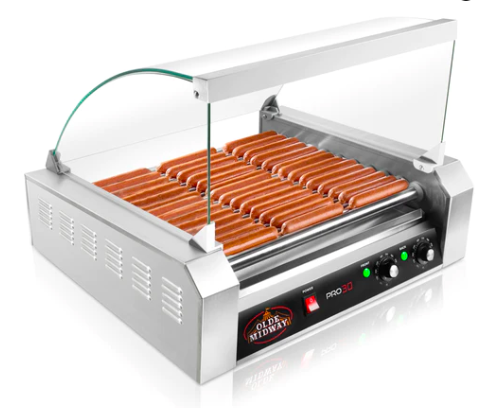 HOT DOG MACHINE
Welcome to Wonder World Jumping Castles, your premier party rental provider serving Tucson, AZ, and the surrounding areas. We're here to add a sizzling touch to your events with our fabulous Hot Dog Steamer Machine!
Nothing says "party" like the irresistible aroma of hot dogs sizzling on the grill. And now, with our Hot Dog Machine, you can bring that mouthwatering delight to your gatherings without the hassle of firing up the barbecue. This fantastic machine is designed to keep your hot dogs warm and ready to serve throughout your event, ensuring that every bite is as delicious as the first.
Imagine the excitement as your guests approach the Hot Dog Machine, eagerly anticipating the flavorful creations that await them. They'll be treated to plump and juicy hot dogs, perfectly heated to perfection in our state-of-the-art steamer. Whether it's a birthday party, a corporate event, or a family get-together, our Hot Dog Steamer Machine adds a touch of nostalgia and satisfies everyone's cravings.
At Wonder World Jumping Castles, we understand the importance of convenience and quality. Our Hot Dog Machine is easy to use, allowing you to focus on entertaining your guests while we take care of the rest. Simply load the machine with your favorite hot dogs, and let it work its magic. It's that simple!
Please note that our Hot Dog Machine includes the warmer only and does not include hot dogs or buns. But don't worry, you can easily find these tasty additions at your local grocery store, ensuring that your hot dogs are fresh and tailored to your guests' preferences.
We want to make your party planning experience even more delightful, which is why we offer free delivery for orders over $75. So, why not add a jumping castle or another exciting attraction to your cart and take advantage of this fantastic offer? Not only will you enjoy the convenience of our Hot Dog Steamer Machine, but you'll also elevate your event with one of our incredible party rentals.
Please note that the picture provided is for reference only, and the actual item may vary slightly.
Ready to turn up the heat at your next event? Your guests will thank you for the delicious and unforgettable experience!
Remember, at Wonder World Jumping Castles, we're here to make your events extraordinary. Book now, exceed your guests' expectations, and create lasting memories with our Hot Dog Steamer Machine.