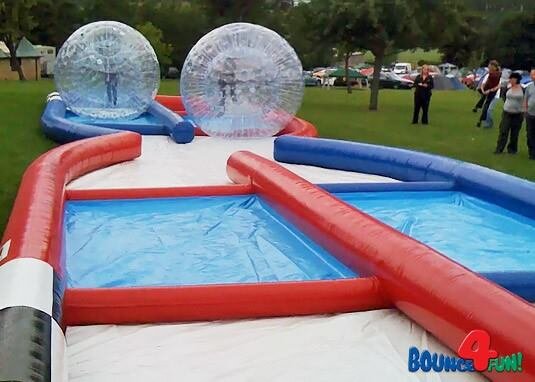 HUMAN HAMSTER BALLS WITH EXTREME TRACK
Welcome to Wonder World Jumping Castles, your ultimate destination for fun and excitement in Tucson, AZ, and the surrounding areas! Get ready to experience the thrill of Zorbs, also known as Human Hamster Balls. It's time to roll, bounce, and have the time of your life!
Zorbs offer a unique and exhilarating adventure that will leave you breathless. Picture yourself inside a 10 ft diameter air-cushioned sphere, ready to embark on an unforgettable journey. Once inside, the fun begins as you run, spin, and tumble to your heart's content. The sensation of being inside a Zorb is like nothing you've ever experienced before—pure joy and exhilaration!
Our Zorb track adds an extra element of excitement to the adventure. With a 75' criss-cross track, you'll navigatet the track testing your skills and agility. Challenge yourself and your friends as you race against the clock or compete for the title of Zorb champion. It's a high-energy activity that guarantees endless laughter and unforgettable memories.
Zorbs are not only incredibly fun but also provide a fantastic workout. As you roll and bounce, you'll engage your muscles, improve your balance, and increase your endurance. It's a thrilling way to stay active and burn off energy while having an absolute blast.
At Wonder World Jumping Castles, we take pride in delivering top-quality entertainment experiences. Your safety and satisfaction are our highest priorities. Rest assured that our Zorbs and track are designed with utmost care and attention to detail, ensuring a safe and enjoyable adventure for everyone.
Whether you're planning a birthday party, a corporate event, or a community gathering, Zorbs are guaranteed to be a hit. People of all ages and fitness levels can participate and have a blast. Our Zorb activity is perfect for team building, school events, or simply enjoying a fun-filled day with friends and family.
Ready to take on the Zorbs challenge? Contact Wonder World Jumping Castles today to book your Zorb adventure and experience the thrill firsthand. Don't miss out on this incredible opportunity to roll, bounce, and laugh your way to unforgettable memories.
Remember, at Wonder World Jumping Castles, we proudly serve Tucson, AZ, and the surrounding areas, bringing the excitement right to your doorstep. Get ready to step inside the world of Zorbs and embark on an adventure like no other. Book now and let the fun begin!