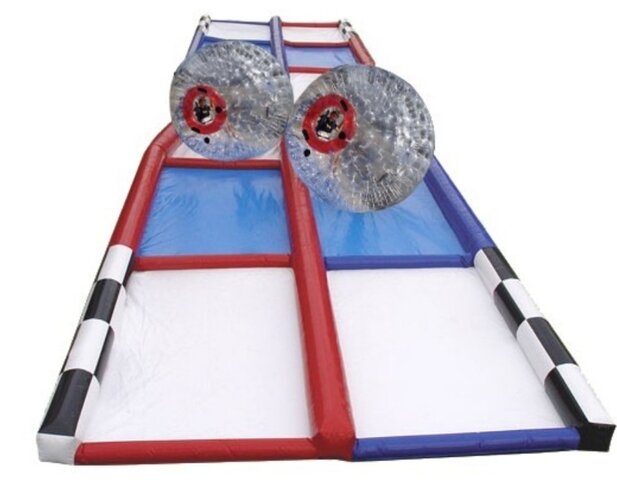 HUMAN HAMSTER BALLS WITH STRAIGHT TRACK
Welcome to Wonder World Jumping Castles, your premier provider of fun and excitement in Tucson, AZ, and the surrounding areas! Get ready to experience the thrill of Zorbs, also known as Human Hamster Balls. Prepare yourself for an adventure like no other!
Zorbs are the ultimate source of entertainment and physical activity. Picture yourself stepping into a 10ft diameter air-cushioned sphere and let the fun begin! Inside the Zorb, you'll run, roll, and bounce to your heart's content. It's an exhilarating experience that will leave you breathless and wanting more. Zorbs are guaranteed to wear you out in the most enjoyable way possible!
Our Dual Lane 75ft Track to ensure a safe and contained Zorbing experience. This track adds an extra element of fun and protection, allowing you to race, compete, and enjoy the Zorbs to the fullest. Zorbing is an incredible activity that's suitable for both kids and adults.
Speaking of adults, Zorbing is not just for the little ones. It's an adventure that can be enjoyed by individuals of all ages. Release your inner child, embrace the laughter, and rediscover the joy of play. Zorbing is the perfect activity for birthday parties, corporate events, team building, or simply a day of pure excitement with friends and family.
At Wonder World Jumping Castles, your safety and satisfaction are our top priorities. Our Zorbs are designed with the utmost care and attention to detail, ensuring a secure and enjoyable experience for everyone. We take pride in delivering top-quality entertainment that will create lasting memories.
So, are you ready to embark on a Zorbing adventure like no other? Contact Wonder World Jumping Castles today to book your Human Hamster Balls with Straight Track experience. Don't miss out on the opportunity to laugh, play, and have the time of your life!
Remember, Wonder World Jumping Castles proudly serves Tucson, AZ, and the surrounding areas, bringing the excitement right to your doorstep. Get ready to dive into the world of Zorbs and create unforgettable memories. Book now and let the Zorbing extravaganza begin!