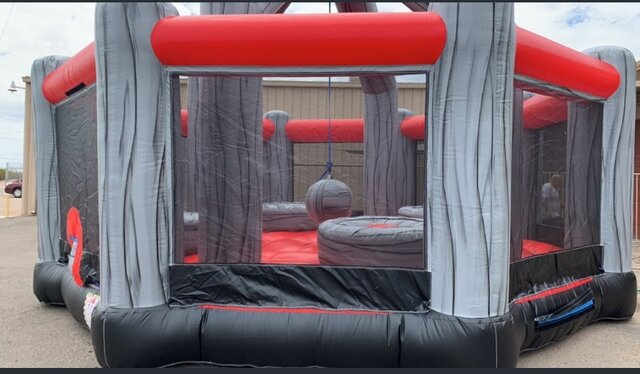 HUMAN WRECKING BALL
Actual Size: 20' W x 20 ' L x 20' H




Welcome to Wonder World Jumping Castles, your go-to destination for the ultimate Human Wrecking Ball experience in Tucson, AZ, and surrounding areas! Get ready to unleash your inner wrecking ball and engage in an epic battle of balance, strength, and laughter.
The Human Wrecking Ball game, also known as Human Demolition, takes interactive inflatables to a whole new level. Picture yourself in an exhilarating four-player arena, where the objective is to outwit, outmaneuver, and outlast your opponents. It's like a jousting match, but with a twist that will have you bouncing with excitement!
In this high-energy game, each player takes their position on a sturdy pedestal. Hanging from the center is a giant, soft wrecking ball. As the battle commences, you'll swing, duck, and dodge, strategically aiming the wrecking ball at your opponents, all while defending yourself from their swinging attacks. The goal? Knock your rivals off their pedestals and claim victory!
The Human Wrecking Ball game is an absolute blast for participants and spectators alike. It's an interactive adventure that guarantees laughter, friendly competition, and unforgettable memories. Whether you're planning a birthday party, a corporate event, a school gathering, or any occasion that calls for non-stop fun, this game is sure to steal the show.
Please note that the Human Wrecking Ball inflatable requires a dedicated staff member to ensure a safe and enjoyable experience for everyone involved. Safety is our top priority, and our trained team will be there to supervise the game, guide players on the rules, and ensure fair play throughout. Additional charges may apply for the supervision, but rest assured, it's worth every penny for the peace of mind and seamless gameplay.
Wonder World Jumping Castles is proud to provide you with an unforgettable Human Wrecking Ball experience. Our inflatable arena is meticulously designed with vibrant colors and attention to detail, creating an immersive environment that will transport you into the heart of the action. It's an experience like no other!
Ready to take on the challenge? Contact Wonder World Jumping Castles today to reserve your Human Wrecking Ball inflatable. Our friendly team is here to assist you in planning your event, answering your questions, and ensuring a seamless rental process. We serve Tucson, AZ, and the surrounding areas, bringing the thrill of the Human Wrecking Ball game directly to you.
Don't miss out on this epic interactive adventure. Book your Human Wrecking Ball inflatable now and prepare for a smashing good time!