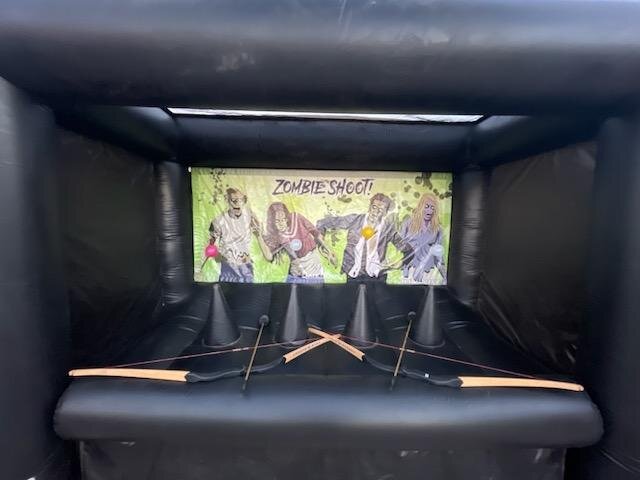 INTERACTIVE ARCHERY RANGE GAME
**Welcome to Our Interactive Archery Range Game - Double the Fun!**
Are you ready to take aim and challenge your friends in an exciting archery showdown? Look no further than our Interactive Archery Range Game! This inflatable game is designed for two players to enjoy simultaneously, adding a competitive edge to your event.
**Game Highlights:**
- **Two-Person Action:** Gather your friends, family, or colleagues for head-to-head archery battles. With room for two players at a time, this game adds a whole new dimension of excitement to your event.
- **Hovering Targets:** The game features four hovering balls, creating a dynamic target for players to take aim at. It's not just about precision but also about timing and strategy.
- **Test Your Skills:** Comes with 12 arrows, 2 bows, and 8 balls, you can practice your archery skills, compete for the highest score, and immerse yourself in a world of friendly competition.- **Safe and Fun:** Our archery game is designed with safety in mind. The soft arrows ensure that you can enjoy the game without worry. Plus, it's suitable for both beginners and experienced archers.
- **Inclusive Entertainment:** Perfect for all ages, our archery game provides entertainment for both kids and adults, making it an excellent addition to any event.
- **Memorable Moments:** The thrill of hitting the hovering targets is bound to create lasting memories and plenty of smiles.
**Book Your Interactive Archery Range Game Today:**
Ready to elevate your event with a dose of friendly competition and action-packed fun? Reserve our Interactive Archery Range Game now and get ready to test your skills and create unforgettable moments with friends and family.
Don't miss out on this unique, inflatable archery experience! Contact us today to book the Interactive Archery Range Game for your next event.