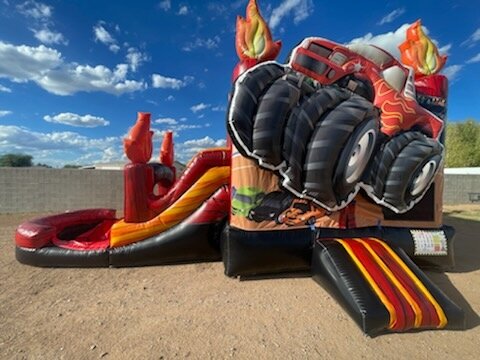 MONSTER TRUCK COMBO
Actual Size: 27' L x 17' W x 18' H
Outlets: 1
Age Group: 5+




Rev up your party with the ultimate thrill ride from Wonder World Jumping Castles! Introducing our Monster Truck Combo Unit, where the excitement reaches new heights and the fun never stops. Get ready to unleash your inner daredevil and embark on an adventure like no other!
Serving Tucson, AZ, and surrounding areas, Wonder World Jumping Castles brings the excitement right to your doorstep. Our Monster Truck Combo Unit is a showstopper that will leave your guests in awe. From the moment they lay eyes on the 3D Monster Truck on the side, they'll know they're in for an adrenaline-pumping experience.
Prepare to be amazed as flames seem to roar out of the four turrets, creating a spectacle that sets the atmosphere on fire. With every jump and slide, you'll feel the energy and excitement of a real monster truck rally. Our vibrant red and orange slide gives you the illusion of sliding through a blazing inferno, adding an extra thrill to your adventure.
Step into the jumping area and feel the power beneath your feet. Bounce, leap, and defy gravity. It's an exhilarating playground where imaginations run wild and laughter fills the air.
When it's time to exit, get ready for the grand finale. Take the plunge down the fiery slide, feeling the rush of the wind as you race towards the ground. It's a heart-pounding experience that will leave you craving for more.
Whether you're planning a birthday party, a corporate event, or a neighborhood gathering, our Monster Truck Combo Unit guarantees non-stop fun and unforgettable memories. It's the perfect centerpiece that will rev up the excitement and leave everyone with smiles from ear to ear.
At Wonder World Jumping Castles, we pride ourselves on delivering exceptional customer service and ensuring the safety and cleanliness of our inflatable units. We go above and beyond to make your event a roaring success, providing you with top-quality rentals and a worry-free experience.
Don't miss out on the chance to bring the thrill of a monster truck rally to your next event. Visit our website at www.wonderworldjumpingcastles.com to reserve the Monster Truck Combo Unit today. Hurry, as availability goes faster than a monster truck flying through the air!
Join us at Wonder World Jumping Castles, where the fun never stops and the excitement is always at full throttle. Book your Monster Truck Combo Unit now and get ready for a wild adventure that will leave everyone revving with excitement!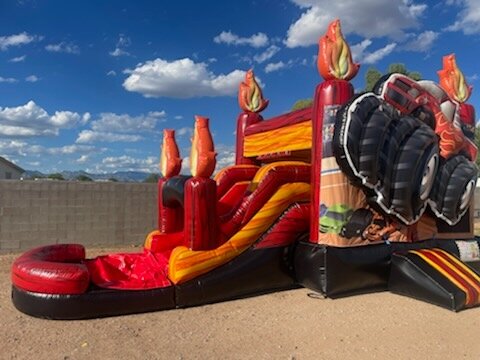 .