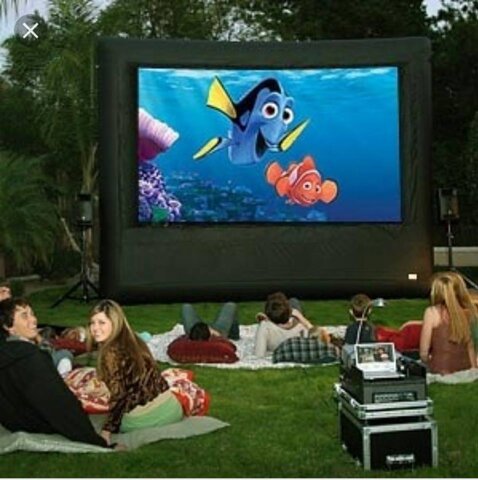 OUTDOOR THEATER
Welcome to Wonder World Jumping Castles, your premier destination for unforgettable entertainment experiences in Tucson, AZ, and the surrounding areas! Get ready to elevate your events to a whole new level of excitement with our incredible Outdoor Theater.
Introducing our Outdoor Movie Screen and Theater Sound System, designed to transform any outdoor space into a captivating cinematic experience. Whether you're hosting a community movie night, a big BBQ gathering, or eagerly awaiting the next thrilling fight, our state-of-the-art outdoor theater system is your ultimate entertainment solution.
Picture this: a massive blow-up movie screen towering over your event, creating a mesmerizing focal point that captures everyone's attention. Our high-quality screen ensures optimal picture quality, bringing movies, sports events, and special presentations to life like never before. It's the perfect way to create a unique and immersive atmosphere that will leave a lasting impression on your guests.
From movie enthusiasts to sports fanatics, our Outdoor Theater is a crowd-pleaser for all. Imagine hosting an epic movie night under the stars. Or gather your friends and family to cheer on your favorite athletes as the action unfolds on the big screen. At Wonder World Jumping Castles, we are committed to creating unforgettable moments and exceptional entertainment experiences.
Don't miss the opportunity to make your next event the talk of the town. Reserve our Outdoor Theater with the blow-up movie screen today. Whether it's a community gathering, a private celebration, or a corporate event, we are here to make it an unforgettable occasion.Wonder World Jumping Castles is your trusted partner for remarkable entertainment experiences. Contact us now to secure our Outdoor Theater and let the show begin! We proudly serve Tucson, AZ, and the surrounding areas, bringing the joy of cinema right to your doorstep.
Please note: Availability for our Outdoor Theater is limited, so we recommend booking in advance to secure your desired date and time.