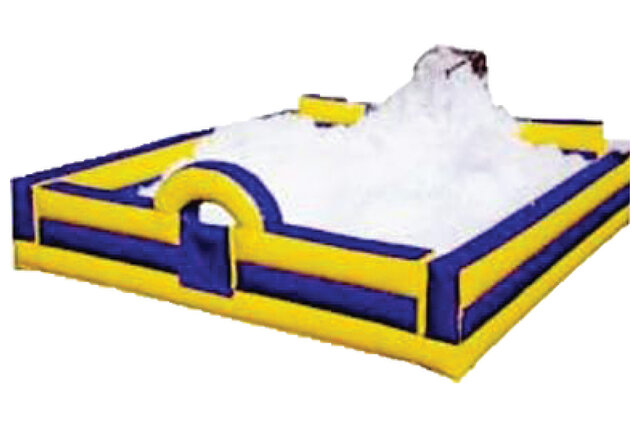 PARTY FOAM PIT
Welcome to Wonder World Jumping Castles, the ultimate destination for fun and excitement in Tucson, AZ, and the surrounding areas! Get ready to take your event to the next level with our incredible Party Foam Pit.
Introducing the Party Foam Pit—an inflatable foam extravaganza that will turn any occasion into a wild and bubbly adventure. Whether you're planning a school event, corporate gathering, or water-themed party, our Foam Pit rental is the perfect addition to create unforgettable memories.
Our inflatable Foam Machine is designed to cater to a wide range of participants, from small elementary school children to college kids and beyond. The 20'L x 20'W Foam Pit provides ample space for up to 25 participants at a time, ensuring that everyone can join in on the foamy fun.
Cool down and let loose as the Foam Machine creates a mountain of fluffy bubbles, transforming your event into a vibrant and energetic foam party. Dive in, dance, and embrace the joyous atmosphere as the foam engulfs you, creating an experience like no other.
At Wonder World Jumping Castles, we prioritize your safety and peace of mind. That's why our Party Foam Pit rental includes a dedicated attendant who will oversee the foam-filled festivities and ensure that everything runs smoothly throughout your event. With our team by your side, you can focus on having a blast while we take care of the logistics.
Our pricing is designed to accommodate your event's duration and budget. We offer a 4-hour minimum rental period, which includes the cost of the attendant. If you'd like to extend the foam-filled excitement, additional hours can be added for just $80 each. Feel free to discuss your specific event requirements with our team, and we'll tailor a package that suits your needs.
Booking the Party Foam Pit is easy—simply book online today to secure your date and time. Due to its popularity, we recommend reserving in advance to ensure availability for your event. Let the foam frenzy begin!
Make a splash at your next gathering with Wonder World Jumping Castles. Contact us now to elevate your event with the Party Foam Pit and explore our wide range of other exciting entertainment options. Our team is dedicated to delivering exceptional service and creating a truly unforgettable experience for you and your guests.
Get ready to dive into a world of foam-filled fun and laughter with Wonder World Jumping Castles. We proudly serve Tucson, AZ, and the surrounding areas, bringing the thrill of the Party Foam Pit to your doorstep.
Please note: Safety is our top priority. While our Party Foam Pit guarantees a fantastic time, please ensure that participants follow all guidelines and instructions provided by our trained attendant. Let's create a safe and enjoyable environment for everyone involved.
Experience the excitement of the Party Foam Pit—book your foam-filled adventure today!