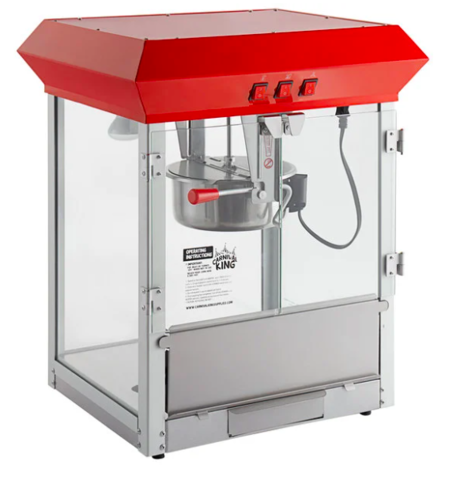 POPCORN MACHINE
Welcome to Wonder World Jumping Castles, your go-to party rental provider serving Tucson, AZ, and the surrounding areas. Get ready to add a burst of flavor and fun to your events with our fantastic Popcorn Machine!
At Wonder World, we believe that every party should have a touch of magic and nostalgia. That's why we bring you the irresistible aroma and taste of freshly popped popcorn with our Popcorn Machine. This delightful treat will captivate your guests' taste buds and create a whimsical atmosphere that will have everyone smiling from ear to ear.
Imagine the excitement as your guests gather around our Popcorn Machine, eagerly awaiting their turn to enjoy a bag of warm, buttery popcorn. With enough popcorn and bags for 25 people, you can be sure that everyone will be able to indulge in this classic party snack. From birthdays to corporate events, school carnivals to family reunions, our Popcorn Machine is a crowd-pleaser that adds a touch of joy to any occasion.
Operating our Popcorn Machine is a breeze. Just load it with our premium popcorn kernels, and watch as it transforms them into fluffy, delicious popcorn right before your eyes. The aroma alone will draw everyone in, and the taste will keep them coming back for more. It's the perfect snack to accompany laughter, games, and good times.
Please note that our Popcorn Machine comes with enough popcorn and bags for 25 people, ensuring that everyone gets their fair share of this delectable treat. And to make your party planning experience even more enjoyable, we offer free delivery for orders over $75. So why not take advantage of this offer and add a jumping castle or another exciting rental to your cart? Not only will you get to enjoy our Popcorn Machine, but you'll also receive the convenience of free delivery.
While the picture provided is for reference only, please understand that the actual item may vary slightly.
Ready to elevate your event with the mouthwatering aroma of fresh popcorn? Book today. Your guests will be delighted by this classic treat, and your event will be the talk of the town!
Remember, at Wonder World Jumping Castles, we're here to make your parties extraordinary. Book now, exceed your guests' expectations, and create unforgettable memories with our Popcorn Machine. Hurry, the popcorn is popping, and the fun is about to begin!