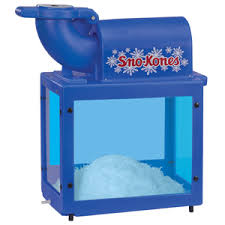 SNO-CONE MACHINE
Welcome to Wonder World Jumping Castles, your premier party rental provider serving Tucson, AZ, and the surrounding areas. Get ready to chill out and treat your taste buds with our amazing Sno-Cone Machine!
At Wonder World, we understand that a party isn't complete without a cool and refreshing treat. That's why we bring you the ultimate solution for beating the heat and satisfying your cravings—the Sno-Cone Machine! This icy delight is the perfect addition to any event, adding a burst of flavor and fun that will leave your guests wanting more.
With our Sno-Cone Machine, you can turn ordinary ice into a rainbow of delicious flavors. Each rental includes 50 servings of your choice of two flavors: Grape, Cherry, or Watermelon. It's a refreshing experience that will transport you to a tropical paradise with every bite.
Please note that while we strive to provide the flavors mentioned above, there may be occasions where substitutes are used depending on our product suppliers. Rest assured, we will always deliver the tastiest and most satisfying Sno-Cones to your event.
Operating the Sno-Cone Machine is a breeze. Simply set it up on a counter or table, add ice, push on the arm, and watch as it transforms ice into fluffy snow-like consistency. Then, drizzle your preferred flavors over the top and let the flavors dance on your tongue. It's a sweet sensation that will leave everyone smiling and feeling refreshed.
While the picture provided is for reference only, please be aware that the actual item may vary slightly.
We want to make your party planning experience as enjoyable as possible. That's why we offer free delivery for orders over $75. So why not take advantage of this offer and add a jumping castle or another exciting rental to your cart? Not only will you get to enjoy our Sno-Cone Machine, but you'll also receive the convenience of free delivery.
Ready to cool down and indulge in delightful flavors? Book today. Your guests will be thrilled with this icy treat, and your event will be a hit!
Remember, at Wonder World Jumping Castles, we're here to make your parties extraordinary. Book now, exceed your guests' expectations, and create unforgettable memories with our Sno-Cone Machine. Don't wait—let the flavors explode and the fun begin!