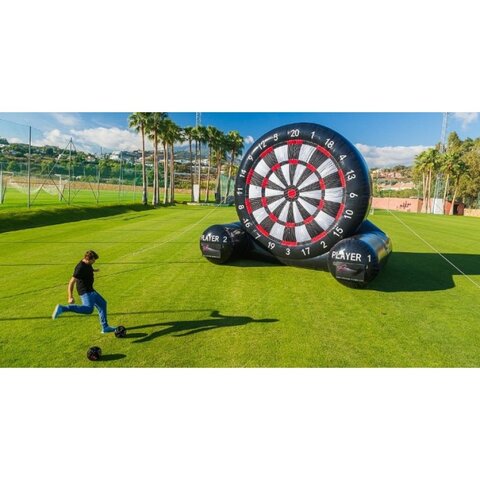 SOCCER DART BOARD
Actual Size: 15' W x 10' D x 15' H




Welcome to Wonder World Jumping Castles, your premier destination for fun and excitement in Tucson, AZ, and the surrounding areas! Get ready to kick it up a notch with our thrilling Soccer Dart Board—a game that combines the skill and excitement of soccer with the strategy and precision of darts.
Soccer Darts is the latest sporting craze sweeping the nation, and now you can experience it right here in Tucson. Imagine a giant bulls-eye target made of Velcro, waiting to be conquered. Players take turns kicking a Velcro-covered ball and aim to hit the target, collecting points based on where they land. It's like playing darts with your feet—an exhilarating twist on a classic game!
Whether you're a soccer enthusiast or just looking for a unique and entertaining activity, Soccer Darts is guaranteed to deliver BIG fun for everyone. Test your aim, accuracy, and technique as you strive for the perfect shot. With each kick, you'll feel the rush of anticipation as the ball soars through the air, hoping to hit the coveted high-scoring sections of the dartboard.
The Soccer Darts inflatable is in high demand, so be sure to reserve it today to secure your spot on the field. It's the ultimate game for parties, events, and gatherings of all kinds. Challenge your friends, family, and colleagues to a friendly competition and see who can rack up the highest score. With Soccer Darts, the fun never stops!
At Wonder World Jumping Castles, we take pride in providing top-quality entertainment that guarantees a memorable experience. Our Soccer Dart Board is meticulously maintained and designed to ensure a safe and enjoyable playing environment for everyone. We prioritize safety without compromising on the fun factor, so you can focus on having a fantastic time with your loved ones.
Wonder World Jumping Castles is dedicated to serving Tucson, AZ, and the surrounding areas with exceptional entertainment options. Whether you're planning a birthday party, corporate event, school function, or community gathering, our Soccer Dart Board is the perfect addition to elevate the excitement and create lasting memories.
Don't miss out on the latest sporting sensation that is Soccer Darts! Contact Wonder World Jumping Castles today to reserve your spot and secure the Soccer Dart Board for your upcoming event. Our friendly team is here to assist you in making your event a smashing success.
Remember, Wonder World Jumping Castles is your go-to source for unforgettable entertainment in Tucson, AZ, and the surrounding areas. Contact us now to reserve the Soccer Dart Board and experience the thrill of this exciting game firsthand. Get ready to kick, score, and have a blast as you take aim at the giant Velcro target and become a Soccer Darts champion!