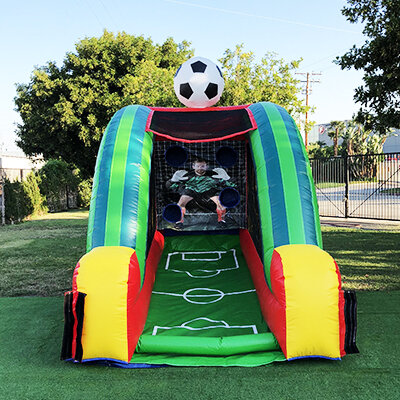 SOCCER GAME
Welcome to Wonder World Jumping Castles, your premier source for fun and excitement in Tucson, AZ, and the surrounding areas! Get ready to score big with our exhilarating Soccer Game—an inflatable carnival-like experience that will take your kicking skills to the next level.
Are you ready to showcase your soccer prowess? Our Soccer Game is the ultimate test of accuracy and agility. Step onto the field, grab the ball, and take aim at the various targets scattered around the inflatable arena. Beat the goalie by kicking the ball into different holes, and watch as your accuracy improves with each successful strike. Whether you're a seasoned soccer player or just starting out, our interactive game is designed to entertain and challenge players of all skill levels.
At Wonder World Jumping Castles, we understand the joy that sports bring and the excitement they generate. That's why we offer a wide range of sport-themed interactive games to enhance your event. In addition to our Soccer Game, you can consider adding our football, baseball, or basketball interactive games to create the ultimate sports extravaganza. From perfecting your penalty kicks to hitting home runs, our collection of interactive games will keep everyone engaged, entertained, and energized.
Safety and satisfaction are our utmost priorities at Wonder World Jumping Castles. Each inflatable attraction, including our Soccer Game, undergoes rigorous inspections and maintenance to ensure a safe and enjoyable experience for all participants. We are committed to delivering exceptional entertainment that surpasses your expectations and creates unforgettable memories.
Wonder World Jumping Castles proudly serves Tucson, AZ, and the surrounding areas, providing top-quality entertainment options for a variety of occasions. Whether you're hosting a birthday party, corporate event, school function, or community gathering, our interactive games will add a touch of excitement and create an unforgettable experience for all.
Don't miss the opportunity to elevate your event with our Soccer Game and other sport-themed interactive attractions. Contact Wonder World Jumping Castles today, and let our team assist you in selecting the perfect games for your occasion. Get ready to kick, score, and celebrate in style as you create a memorable celebration that will have everyone cheering for more!
Remember, Wonder World Jumping Castles is your go-to destination for interactive games and entertainment in Tucson, AZ, and the surrounding areas. Contact us now to reserve the Soccer Game and other thrilling attractions that will make your event a resounding success. Let's bring the excitement of the soccer field to your next gathering and create unforgettable memories that will have everyone shouting, "GOAL!"