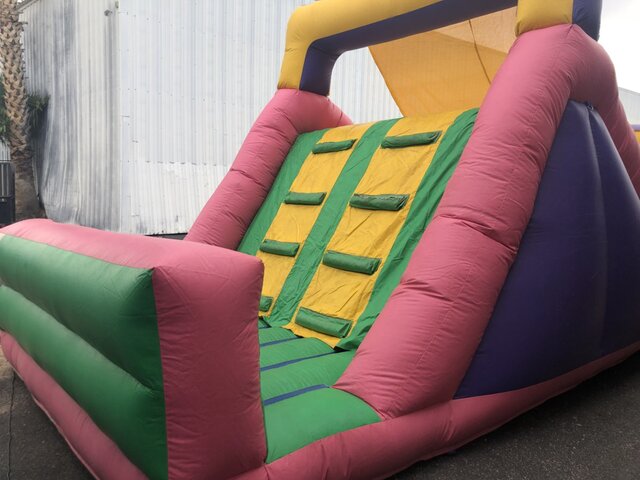 SPEED RACE CHALLENGE
Actual Size: 30' L x 17' W x 12' H




Welcome to Wonder World Jumping Castles, your premier source of exhilarating entertainment in Tucson, AZ, and the surrounding areas! Get ready to rev up the excitement with our thrilling Speed Race Challenge.
The Speed Race Challenge is a vibrant and action-packed inflatable attraction that will ignite the spirit of competition in participants of all ages. This colorful masterpiece features a ladder to climb on one side and an exhilarating slide on the other, creating an adrenaline-pumping race to the finish line. With its eye-catching pink, purple, green, and yellow design, the Speed Race Challenge stands out as a captivating centerpiece at any event.
This interactive inflatable is designed to accommodate two participants at a time, allowing friends, family members, or colleagues to go head-to-head in a thrilling race to the top. Climb up the ladder with determination, reach the summit, and then plunge down the slide in a triumphant rush of excitement. It's a thrilling challenge that will have everyone cheering and wanting to experience it again and again.
At Wonder World Jumping Castles, we are committed to providing top-quality attractions that guarantee fun and safety for all participants. The Speed Race Challenge is constructed with meticulous attention to detail and adheres to the highest industry standards. We prioritize the well-being and enjoyment of our customers, ensuring a memorable and worry-free experience.
No matter the occasion, the Speed Race Challenge is an excellent addition to birthday parties, school events, corporate gatherings, and more. Its engaging design and competitive nature make it a crowd favorite that will keep guests entertained for hours on end.
Wonder World Jumping Castles is here to bring the excitement and joy of the Speed Race Challenge to your event. As the leading provider of inflatable entertainment, we take pride in delivering exceptional experiences that leave a lasting impression. Our friendly and professional team is dedicated to ensuring a seamless and unforgettable adventure for you and your guests.
Don't miss out on the chance to create unforgettable memories with the Speed Race Challenge. Contact Wonder World Jumping Castles today to reserve this thrilling attraction for your upcoming event. We proudly serve Tucson, AZ, and the surrounding areas, bringing excitement and laughter to every celebration.
Remember, Wonder World Jumping Castles is your trusted partner for unforgettable entertainment experiences. Contact us now to secure the Speed Race Challenge and let the fun begin!
Please note: Availability may be limited, so we recommend booking in advance to secure your desired date and time.