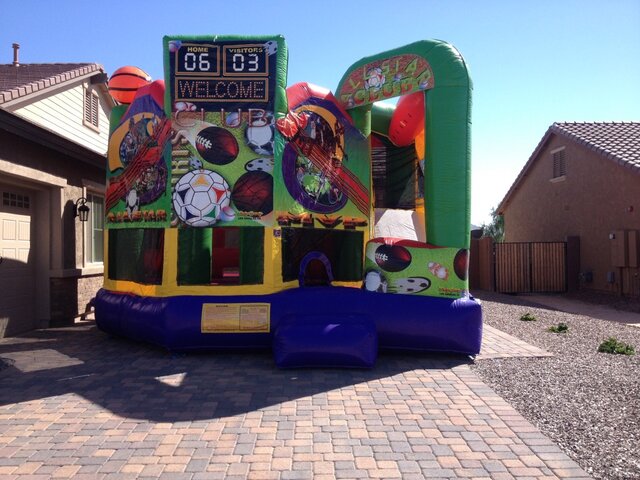 SPORTS 5 IN 1 ARENA
Actual Size: 20'L x 19'W x 15'H 




Welcome to Wonder World Jumping Castles, your go-to destination for endless fun and excitement in Tucson, AZ, and the surrounding areas. Get ready to unleash your inner sports star with our incredible Sports 5 in 1 Arena Inflatable!
Step into the arena and prepare for an action-packed adventure like no other. Our Sports 5 in 1 Arena is the ultimate playground for athletes of all ages. With its vibrant colors, thrilling features, and versatile options, this inflatable wonderland is guaranteed to be the highlight of any event.
Inside the arena, you'll find a basketball hoop that will test your shooting skills. Aim high, shoot the perfect swish, and feel the rush of victory as you score point after point. But the excitement doesn't stop there! Navigate through the log and pop-up obstacles, conquering every challenge that comes your way. And when you're ready for an adrenaline-fueled descent, zoom down the slide and make a grand exit!
The outside of the Sports 5 in 1 Arena is a visual delight. Colorful images of various game balls decorate the front, showcasing the thrilling world of sports. As you look up, you'll notice a scoreboard.
But that's not all—our Sports 5 in 1 Arena offers even more flexibility. You can choose to have a misting system installed for those hot summer days, providing a refreshing and cool environment for your energetic endeavors. Alternatively, you can opt for a dry experience, ensuring non-stop fun regardless of the weather.
Ready to bring the thrill of sports to your next event? Reserve our Sports 5 in 1 Arena today by visiting our website at www.wonderworldjumpingcastles.com. Don't miss out on the opportunity to create unforgettable memories, foster friendly competition, and experience the joy of play. Book now and let the games begin!
Wonder World Jumping Castles: Where the spirit of sports comes alive, and champions are made. Get ready to unleash your skills and have a blast in our Sports 5 in 1 Arena Inflatable. It's time to jump, slide, and conquer in a world of sports-inspired fun!