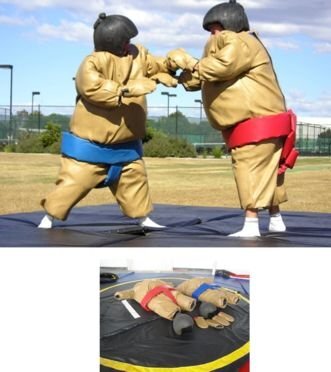 SUMO SUITS AND MAT
Actual Size: 14' x 14'
Setup Area: 20' x 20'




Welcome to Wonder World Jumping Castles, your premier source for unforgettable entertainment in Tucson, AZ, and the surrounding areas! Are you ready to take your event to the next level of hilarity and excitement? Look no further than our incredible Sumo Suits!
Sumo Suits are the perfect addition to any party, church or school activity, or corporate team building event. These larger-than-life inflatable suits will have everyone rolling with laughter and cheering on the brave contenders. Whether you're participating in the sumo showdown or simply enjoying the spectacle as a spectator, this experience is guaranteed to create memories that will last a lifetime.
Our Sumo Suits rental package includes everything you need for an epic sumo wrestling match. Two fully-padded, heavy-duty sumo suits are provided for the wrestlers, ensuring their safety and comfort throughout the event. Additionally, we provide a 14-foot by 14-foot wrestling mat, creating a designated arena where the sumo battles will take place.
Participation in the Sumo Suits event is open to anyone who is 5 feet or taller and in good physical health. It's a fantastic opportunity for friends, colleagues, and family members to engage in friendly competition and showcase their sumo wrestling skills. Whether you're a seasoned athlete or simply looking for a fun and unique experience, the Sumo Suits event promises laughter, excitement, and plenty of memorable moments.
To ensure the safety of all participants, it's important to consider the space requirements. Ideally, a minimum space of 20 feet by 20 feet is recommended for the wrestling mat. If your available space is smaller or doesn't allow for the placement of mats on grass or carpet, we kindly request the presence of spotters on each side of the mat. Spotters play a crucial role in preventing any injuries that may occur from falls, and we recommend having one spotter for each wrestler, regardless of the space or surface conditions.
At Wonder World Jumping Castles, safety is our top priority. We meticulously maintain our Sumo Suits and equipment to ensure they meet the highest industry standards. We want you to have complete peace of mind while enjoying this thrilling activity.
So, what are you waiting for? Rent our Sumo Suits today and get ready to rumble! Contact Wonder World Jumping Castles to reserve this one-of-a-kind experience for your upcoming event. Our dedicated team is here to assist you in creating a memorable and laughter-filled occasion.
Remember, Wonder World Jumping Castles is your trusted partner for exceptional entertainment in Tucson, AZ, and the surrounding areas. Contact us now to secure the Sumo Suits and let the sumo showdown begin!