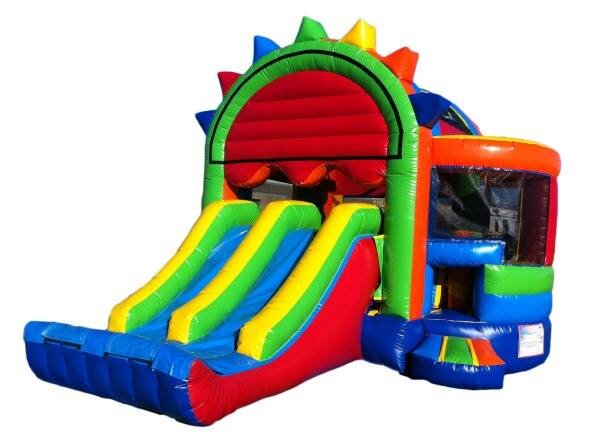 SUNSET FRONT DUAL LANE COMBO
Actual Size: 26'L x 15'W x 17′




Welcome to WonderWorld Jumping Castles, your premier destination for inflatable fun in Tucson and surrounding areas. We take pride in offering a wide selection of high-quality inflatables and inflatable games, ensuring that your event is filled with excitement and laughter. Our commitment to exceptional customer service and cleanliness sets us apart as the top choice for bounce house rentals and family entertainment.
Introducing our incredible Sunset Front Dual Lane Combo, a true centerpiece for any occasion. With its vibrant colors of red, green, yellow, and blue, this eye-catching inflatable will captivate both children and adults alike. The stunning sun design above the slide adds a touch of enchantment, creating a magical atmosphere for your guests to enjoy.
Step inside the Sunset Front Dual Lane Combo and discover a world of adventure. Engage in friendly competition as you navigate the mini obstacle course, showcasing your agility and determination. Shoot hoops and perfect your slam dunks with the built-in basketball hoop, providing hours of athletic entertainment. And of course, the spacious jumping castle area lets imaginations soar as kids bounce to their heart's content.
With dual slides, the Sunset Front Dual Lane Combo offers double the excitement and thrills. Experience the exhilaration of racing down the slides alongside friends and family, creating memories that will last a lifetime. Whether you choose to use it wet or dry, the Sunset Front Dual Lane Combo guarantees endless fun and laughter.
Ready to embark on an unforgettable adventure with the Sunset Front Dual Lane Combo? Book your inflatable today. Don't wait, as availability fills up quickly.
Experience the thrill, joy, and wonder of WonderWorld Jumping Castles. We are committed to delivering exceptional entertainment that surpasses your expectations. Join us and let your imagination soar with the Sunset Front Dual Lane Combo. Your next extraordinary event starts here.