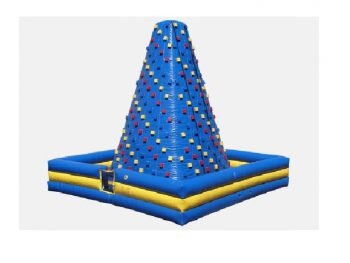 THREE SIDED ROCK WALL
Actual Size: 35'W x 35' L x 28'H




Welcome to Wonder World Jumping Castles, your premier destination for thrilling and unique entertainment experiences in Tucson, AZ, and the surrounding areas! Get ready to conquer new heights with our incredible Three-Sided Rock Wall.
Introducing the Three-Sided Rock Wall—an impressive inflatable interactive that will test your climbing skills and ignite the spirit of competition. Standing tall at 20 feet high, this commercial-grade inflatable is unlike anything you've ever experienced. Its pyramid shape features three sides of climbing, adorned with vibrant raised square protrusions serving as sturdy hand-and footholds.
Challenge your friends to a race to the top and see who can conquer the summit first. Or push yourself to new limits by climbing using only one color of handholds. With its versatile design, the Three-Sided Rock Wall offers endless possibilities for exciting and engaging gameplay.
Safety and fun go hand in hand at Wonder World Jumping Castles. That's why our climbing pyramid is surrounded by a generously-sized inflatable enclosure with high bolstered sides, providing a secure and protected climbing environment. We prioritize your well-being and ensure that every element of our inflatables meets the highest safety standards.
Designed by Jungle Jumps, the industry's leading provider of inflatable products, the Three-Sided Rock Wall is a testament to quality and innovation. To make it even more visually appealing and memorable, we've chosen the primary colors of red, blue, and yellow, making this inflatable interactive stand out from the competition.
At Wonder World Jumping Castles, we understand the importance of safety and attention to detail. When setting up the Three-Sided Rock Wall, please ensure that your designated area is fenced in and equipped with a DOUBLE GATE for easy access. This precautionary measure guarantees a secure and controlled environment for everyone's enjoyment.
To maintain the highest level of safety during the climbing experience, it is essential to have a minimum of two people manning the safety rope—one for each climber. This ensures that climbers have constant support and assistance throughout their ascent.
The Three-Sided Rock Wall is the perfect addition to any event or gathering. Whether you're hosting a birthday party, a school function, or a community celebration, this inflatable attraction will captivate and entertain your guests of all ages.
Make your next event unforgettable with Wonder World Jumping Castles. Contact us today to reserve the Three-Sided Rock Wall and create a customized entertainment package that suits your specific needs. Our dedicated team is here to provide exceptional service and help you create a memorable experience for everyone involved.
Experience the thrill of conquering the Three-Sided Rock Wall—book your adventure now! Wonder World Jumping Castles proudly serves Tucson, AZ, and the surrounding areas, bringing joy and excitement to your doorstep.
Please note: Due to the popularity of the Three-Sided Rock Wall, availability is limited. We recommend booking in advance to secure your desired date and time. Get ready to embark on an unforgettable climbing experience that will leave you with lasting memories. Let the adventure begin!