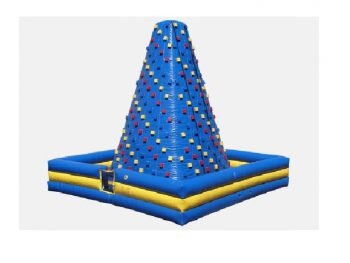 THREE SIDED ROCK WALL
Standing 20 feet high at the top of its pyramid shape, this commercial grade inflatable interactive is one of the most unique products in the inflatables industry. It features three sides of climbing, with colorful raised square protrusions to serve as hand-and footholds. Challenge your friends to see who can arrive at the top first, or challenge yourself by climbing only on one color of handholds. The entire climbing pyramid is surrounded by a generously-sized inflatable enclosure with high bolstered sides. It was designed with safety and fun in mind by Jungle Jumps, the industry's leader in inflatable products. We've chosen the primary colors of red, blue, and yellow to help this inflatable interactive stand out from the competition.
Please note: if the set up area is fenced in, there must be a DOUBLE GATE for access.
Please note: It takes a minimum of two people to man the safety rope. One for each climber.
Dimensions: 35'W x 35' L x 28'H