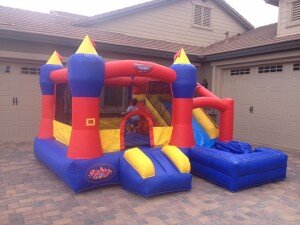 TODDLER BOUNCE HOUSE
Actual Size: 13'L x 14'W x 8'H 




Welcome to Wonder World Jumping Castles, your premier destination for unforgettable inflatable fun! Get ready to take playtime to new heights with our fantastic Toddler Bounce House. Designed with safety and excitement in mind, this inflatable wonderland is sure to delight your little ones and create lasting memories.
Jump for Joy: Our Toddler Bounce House features a spacious jumping area that provides the perfect space for your little adventurers to bounce, leap, and let their imaginations soar. Watch as their faces light up with sheer delight while they experience the joy of active play.
Slip and Splash: The excitement continues with our exhilarating slide that leads into a pool/landing area. With the option to use it wet or dry, your little ones can experience the thrill of sliding and make a splash in the pool, creating an extra element of fun and laughter.
Safety First: At Wonder World Jumping Castles, we prioritize safety above all else. Our Toddler Bounce House is constructed with top-quality materials, featuring reinforced seams and sturdy construction to ensure a secure play environment for your precious children. Rest assured that they can bounce and slide to their heart's content within the enclosed sides of this carefully designed inflatable.
Endless Adventures: Versatility is key! Whether you choose to use it as a dry bounce house for everyday play or add water for a refreshing water park experience, the choice is yours. Let your little ones beat the summer heat and embark on exciting aquatic adventures right in their own backyard.
Unforgettable Moments: Perfect for birthday parties, family gatherings, or any occasion that calls for pure joy, our Toddler Bounce House guarantees hours of entertainment for your little explorers. Create cherished memories as they laugh, play, and create their own magical world of fun.
Wonder World Jumping Castles is committed to providing exceptional service and outstanding inflatables. Our Toddler Bounce House is meticulously maintained and cleaned to ensure a safe and hygienic play environment for your children.
Ready to create extraordinary playtime memories? Don't miss out on the fun! Visit our website at www.wonderworldjumpingcastles.com or call us at 520-247-7623 to reserve the Toddler Bounce House today. Let the laughter and excitement begin!
Elevate playtime to new heights with Wonder World Jumping Castles. We bring the joy, you create the memories!
#ToddlerBounceHouse #InflatableFun #SafePlaytime #UnforgettableMemories #JumpingCastles #InflatableRentals