CHOO CHOO All Aboard! Lets take your next party, event or celebration to the next level with our Train Ride rental. This fun little ride will engage your guests and get everyone smiling with joy.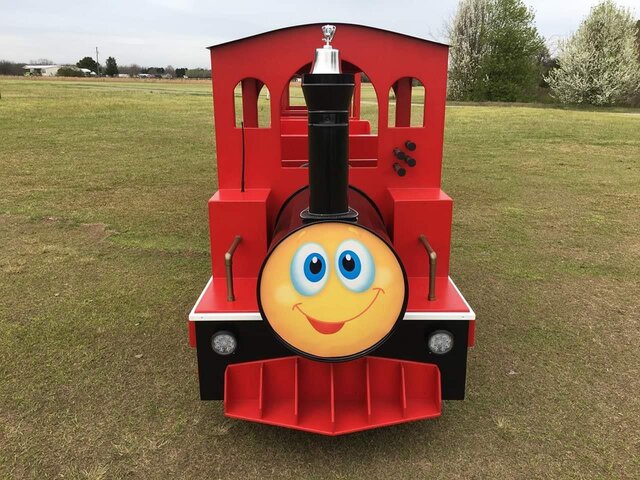 TRAIN RIDE
All aboard! Welcome to Wonder World Jumping Castles, your one-stop destination for endless fun and excitement in Tucson, AZ, and the surrounding areas. Get ready to embark on a magical train adventure with our fantastic train rentals!
Our train rentals are perfect for creating unforgettable memories at your next event. We offer two delightful styles of trains to choose from, ensuring there's something for everyone. The first train features three vibrant red carts, while the second train boasts a colorful combination of one blue, one yellow, and one red cart. Whichever train you choose, be prepared for a ride full of laughter and joy!
When you rent our train, you don't just get the locomotive; you also get a dedicated driver to take you on a thrilling journey. Our experienced and friendly drivers will ensure a safe and enjoyable ride for all passengers. Sit back, relax, and let our skilled driver guide you through the excitement.
Our train rentals are available for a minimum of three hours, allowing you and your guests to fully immerse yourselves in the adventure. And if you're having too much fun to stop, don't worry! You can extend the rental hours for an additional fee, giving you even more time to enjoy the train ride.
Whether it's a birthday party, a community fair, a corporate event, or any special occasion, our train rentals add that extra touch of magic. Watch as children's faces light up with excitement as they climb aboard the train, ready to embark on an unforgettable journey.
At Wonder World Jumping Castles, safety is our utmost priority. Our trains are meticulously maintained and operated by trained professionals, ensuring a secure and worry-free experience for all. Sit back and enjoy the ride, knowing that you're in good hands.
Serving Tucson, AZ, and the surrounding areas, we bring the joy of our train rentals directly to your event. Visit our website at www.wonderworldjumpingcastles.com today to book your train adventure. Hurry, because the tracks are waiting, and the fun is about to begin!
All aboard the excitement express!