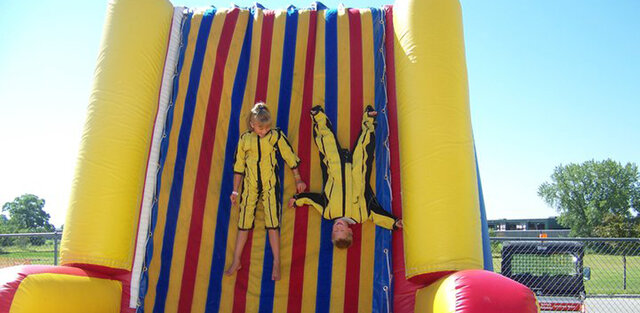 VELCRO WALL
Actual Size: 20'H x 14' L x 8' W 




Welcome to Wonder World Jumping Castles, your go-to source for thrilling and unforgettable entertainment experiences in Tucson, AZ, and the surrounding areas! Get ready to defy gravity and experience the thrill of our incredible Velcro Wall.
Introducing our exhilarating Velcro Wall—an interactive inflatable that takes fun to new heights! Strap on our specially designed velcro suit, run, and jump towards the towering wall, and watch as you stick yourself in gravity-defying positions. The challenge? See who can plant themselves the highest on the wall and hold on tight as you hang around for a while.
The Velcro Wall is not just your ordinary inflatable attraction—it's an adrenaline-pumping experience that will leave you and your guests with lasting memories. Picture the excitement on everyone's faces as they launch themselves into the air, flipping, spinning, and striking gravity-defying poses on the wall. It's a hilarious spectacle that's perfect for any party, event, or gathering.
Our Velcro Wall is designed to be enjoyed by the whole family, creating an inclusive and thrilling experience for all ages. Whether you're hosting a birthday celebration, a corporate team-building event, or a neighborhood get-together, this interactive inflatable guarantees non-stop laughter and fun. And with the capacity for two people to play at the same time, the competition and camaraderie are taken to a whole new level.
At Wonder World Jumping Castles, we're committed to delivering exceptional entertainment experiences that exceed your expectations.
Make your next event one to remember by adding the exhilarating and laughter-inducing Velcro Wall to your lineup. Whether you're planning a backyard bash, a school event, or a community festival, this attraction is guaranteed to be a crowd-pleaser that will have everyone talking long after the event ends.
Don't miss out on the chance to experience the thrill of our Velcro Wall. Contact Wonder World Jumping Castles today to reserve this unforgettable attraction for your upcoming event. Our team is here to assist you in creating a customized entertainment package that meets your specific needs and guarantees an extraordinary experience.
Choose Wonder World Jumping Castles for an unforgettable journey into the realm of excitement and laughter. We proudly serve Tucson, AZ, and the surrounding areas, bringing joy and adventure to your doorstep.
Please note: Availability for our Velcro Wall is limited, so be sure to book in advance to secure your desired date and time. Let the gravity-defying fun begin!