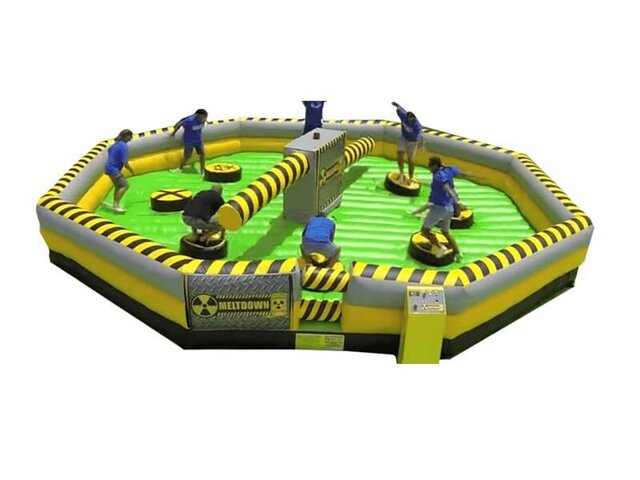 WIPEOUT/TOXIC MELTDOWN
Welcome to Wonder World Jumping Castles, your premier destination for unforgettable gaming experiences in Tucson, AZ, and the surrounding areas. Get ready to unleash your inner competitor with our thrilling inflatable game, Wipeout!
Introducing Toxic Meltdown, the ultimate giant inflatable action game that will put your agility to the test. If you've ever dreamed of being on the hit TV game show Wipeout or enjoyed playing the exhilarating "Wipeout" video game, you're going to LOVE Toxic Meltdown. Brace yourself for crazy-fast fun and an epic physical challenge like no other!
We make it easy for you to enjoy this exciting gaming experience. We bring the giant inflatable action game to your desired location, handle the setup, provide a dedicated game coach to guide you through the fun, and take care of the takedown and haul-away when you're done. It's hassle-free entertainment at its best!
With a minimum rental duration of 3 hours and an attendant included, you'll have ample time to immerse yourself in the action. And if you can't get enough, you can extend the fun with additional half-hour increments for just $110.
Where can you experience the Toxic Meltdown giant inflatable game? The answer is anywhere! We can set it up at various locations to cater to your specific event:
CORPORATE EVENTS: Inject some energy and friendly competition into your corporate events with Toxic Meltdown. This exciting game brings people of all ages together and can be set up at your workplace or a nearby park. All we need is a little space to create a memorable experience for your team.
CHURCH EVENTS: Youth groups and community events will be buzzing with excitement when Toxic Meltdown is in the mix. It's not only a great source of entertainment but also a fantastic opportunity to raise funds for your church by charging guests ticket passes to play the game.
SCHOOLS: The Toxic Meltdown giant inflatable action game is a perfect addition to school carnivals, special events, or gym activities. Watch as students embrace the challenge, engage in fast-paced fun, and create lasting memories.
BIRTHDAY PARTIES: Make your child's birthday party an unforgettable extravaganza with Toxic Meltdown. Kids will be entertained for hours as they compete against their friends. Create a bracket-style tournament to determine the ultimate champion, and rest assured that your child and their friends won't stop talking about it until you book us again for next year's celebration!
FAMILY GATHERINGS: Spice up your family gatherings with some friendly competition on Toxic Meltdown. Pit adults against kids, boys against girls, or cousins against cousins to bring out the competitive athlete in everyone. Discover who will emerge as the ultimate family champion!
At Wonder World Jumping Castles, we cater to a wide range of events, including birthday parties, church events, corporate events, fairs and carnivals, family reunions, fundraisers, and school events. No matter the occasion, our goal is to provide you with exhilarating entertainment that will leave a lasting impression on your guests.
Don't miss your chance to experience the excitement of Toxic Meltdown. Contact us today to reserve this epic inflatable game for your upcoming event. Get ready to jump, dodge, and conquer the challenge that awaits!
Book now and let the games begin!