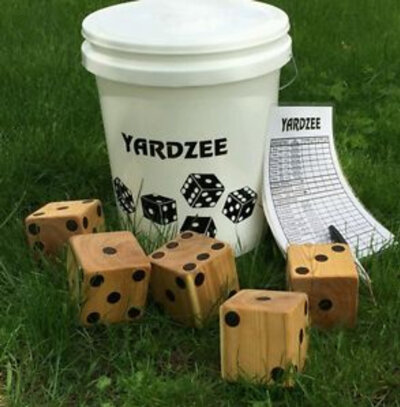 YARDZEE SET
Welcome to Wonder World Jumping Castles, your ultimate source of fun and excitement in Tucson, AZ, and the surrounding areas! Get ready to roll the dice and experience the thrill of our Yardzee (Yard Yahtzee) game, a fantastic outdoor activity that brings the classic dice game to life in your own backyard.
Yardzee is the perfect game to enjoy with family and friends, adding a giant twist to the traditional Yahtzee experience. With oversized dice and a custom scorecard, you'll be rolling your way to victory in no time. The objective is simple: roll the dice and try to achieve the highest score by making different combinations like three of a kind, full house, and of course, the elusive Yardzee!
This exciting game is suitable for all ages and guarantees endless laughter and friendly competition. It's a fantastic addition to birthday parties, family gatherings, barbecues, and any outdoor event where you want to create unforgettable memories.
At Wonder World Jumping Castles, we understand that every event is unique and special. That's why we offer a wide selection of party rentals to enhance your experience. And here's the best part: when you place an order with a minimum value of $75, you'll enjoy free delivery if you are in our delivery radius! So go ahead and add more items to your cart to make your celebration even more extraordinary while saving money at the same time.
From jumping castles and giant games to concessions and interactive inflatables, we have everything you need to take your event to the next level. Our commitment to exceptional customer service ensures that your experience with us is nothing short of amazing.
Wonder World Jumping Castles proudly serves Tucson, AZ, and the surrounding areas, bringing the joy of Yardzee and other exciting rentals right to your doorstep. We take care of the logistics so you can focus on having a blast with your guests.
Don't miss out on the fun! Contact Wonder World Jumping Castles today to reserve your Yardzee game and explore our extensive range of party rentals. Let the dice roll and the good times begin!