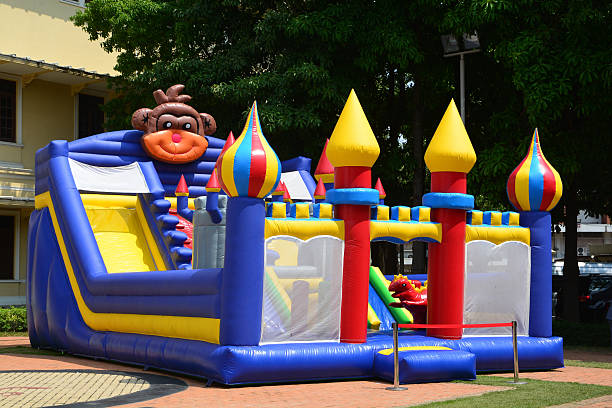 The Parents Guide to Inflatable Bouncers Part1
Although they are not very new,Inflatable Bouncers houses are now more popular than ever, especially with young families. They are increasingly more prevalent in yards and driveways in and around your area and are a staple at many fairs and festivals.
They are a tonne of fun, which is one of the factors in their popularity. You'll understand what I mean if you observe any child passing by an Inflatable Bouncers. And if you're a parent, you already understand what I mean because you've dealt with your kids' requests to enter a bouncer a hundred times.
From the parent's standpoint, bounce houses are a kid-favourite, somewhat safe amusement. None of the parents I know who have purchased inflatables have regretted buying, and the majority have more than one! As parents, we've all experienced those times when we need to let everything run on autopilot. Despite how absurd it sounds, Inflatable Bouncers may be a reliable ally in managing your children's behaviour and letting them burn off some excess energy.
Despite their rising popularity, many parents still need to become familiar with the essentials of inflatable bounce houses, such as safety precautions, best practices, and purchasing guidelines. I've done my best to provide you with all the information you'll need to make the best choice for you and your children in this guide.
The Foundational Basics of Bounce Houses
A bounce house is a sizable air cushion propelled by a steady airflow. A bounce house maintains the correct pressure after initial inflation by releasing some air from its seams, and that air is then replaced by new air entering from the blower motor.
Continuous Flow of Air
This cycle continues until you stop the inflatable air source and allow it to deflate (or until you unplug the power for the blower and the unit slowly reduces). The blower's energy produces the extra bounce while your kids jump on the bouncer. Maintaining your blower and inflatable will ensure consistent performance and long life.
A blower made specifically for your model of bounce house should be included if you're purchasing a brand-new one. It is generally advised against using an extension cord because it can limit the amount of power the blower can pull from your socket. The blower must be plugged in the entire time the bouncer is inflating. Less energy means less air is circulating through the apparatus, which reduces the bounce and stability of the children.
Your bouncy house will have an inflatable tube that you connect to the blower, which is made of the same material as the bounce house itself. For the finest bouncing experience, ensure that this tube is fully extended and has no kinks or bends.
Material Bouncers are often made of vinyl (also known as PVC), nylon, or other similar material, and they often include varying degrees of cross-hatching and other strengthening techniques. Although residential models are more frequently made of lighter materials than their heavy-duty commercial counterparts, there are numerous well-known brands to choose from, so you can always choose one that will be dependable for your family.
Setting Up Your Jumping Castle
Depending on the particular type, putting your bounce house together can need the assistance of one or more individuals. A typical home bouncer can weigh anywhere from 30 to 60 pounds and be incredibly challenging to handle due to how uncomfortable it is when rolled up. If it's your first time, especially, anticipate needing assistance; you'll be glad you did.
Placement
A flat, grassy surface is the safest spot to set up your bouncer. The bouncer should have as much space as possible on all sides, and you should ensure clear access to all entries and exits.
Kids go berserk when they play with these devices; they'll be so giddy that they won't pay attention to where they're walking as they circle the apparatus.
Using a bounce house shouldn't cause any harm to the lawn, but you should try to keep it away from any trees, bushes, or shrubs that might get damaged (or harm the bouncer).
]The bouncer should be taken down and stored after use, as this will help prevent your lawn harm. Your lawn will be able to heal and breathe as a result.
Operation of a Blower
Additionally, pay attention to where the blower connects to the appliance. A supply tube several feet long must be kept straight and kink-free during operation. Additionally, it would be beneficial if you connected the blower to an outlet. Keep these in mind as you decide where and how to place your bouncer. If you make plans, your kids will have a day that is safe and fun.
Your bouncer will typically take between 60 and 3 minutes to fully inflate after connecting the blower. Amazingly, the blowers move a lot of air in a brief period. The speed at which some of these units may boost will astound you.
While the unit is running, you can hear air escaping from the seams. Keep in mind that the blower must always be running, and a lot of the produced air eventually escapes via the seams. There is typically nothing to worry about, and everything is normal. You'll be able to discern if there's ever an actual problem if you trust your gut.
Anchoring
A bounce house would often feature four to eight straps, which anchor the Inflatable Bouncers to the ground along with a set of stakes. Always drive with caution when in stakes. I also strongly urge you to cover the heads of the stakes after you've pushed them into the earth. If a youngster encounters a significant injury, this will assist in making it into a tiny bump.
Setting up your bouncer on a concrete or asphalt slab is a less appealing but perfectly secure option. If you take this course, you must place a tarp or pad beneath the bouncer.
This is more about the kids than the bouncer, which can undoubtedly tolerate being set immediately on a hard surface. Large tarps underneath bouncers ensure that mild bumps rather than skinned knees occur.
The Inflatable Bouncers must be secured to the ground using some device when set up on concrete. As previously noted, the bouncer will be attached to the base using several straps generally utilised with stakes. You'll need to use creativity here, but this step is required.
To anchor the device to the ground, you must use sandbags or another weight and link it to the anchor straps. This is optional when setting up on a hard surface.
Wonder World Jumping Castle - Blog Video
The Parents Guide to Inflatable Bouncers Part1
Although they are not very new,Inflatable Bouncers houses are now more popular than ever, especially with young families. They are increasingly more prevalent in yards and driveways in and around your area and are a staple at many fairs and festivals.