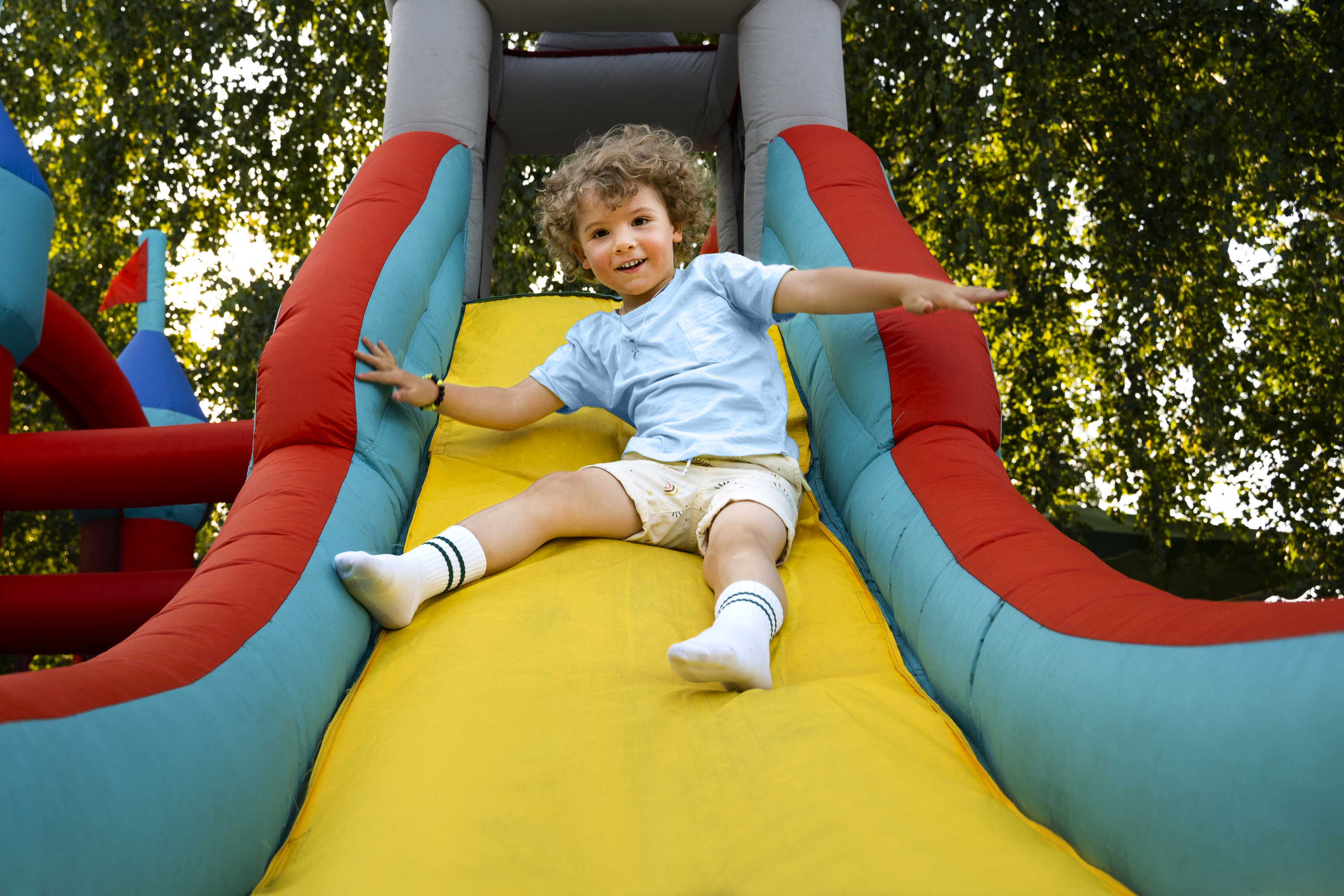 Benefits and Risks of Jumping on Inflatable Castles
Today, inflatable castles, sometimes called bounce houses and moonwalk bouncers, are a prevalent type of kid's entertainment. Many families will hire a bounce house for their child's birthday celebration on the weekend, and parents will often take their child to an amusement park, county fair, carnival, or festival event to enjoy the fun on
inflatable bouncers
. Some households may own a commercial jump house for their kids' everyday outdoor play. You will be instructed to abide by the safety regulations whether you rent or purchase a bounce house. The benefits and drawbacks of jumping on bounce houses for your health will be discussed to help you make the best decision.
Inflatable Castle Health Benefits
Everyone is aware that regular exercise and physical activity positively affect health. Jumping about or using inflatable play structures is a terrific exercise for youngsters. The CDC advises children and teenagers between 6 and 17 to engage in at least an hour of physical exercise daily. Unfortunately, the trend of diminishing physical activity among kids and teenagers continues worldwide due to technological advancement and the widespread use of smartphones.
Jumping castles
and other entertaining inflatables are terrific methods to motivate kids, teenagers, and adults to participate more in physical activity.
1. Bouncing is entertaining and encourages exercise
According to research, just 21.6% of children and adolescents in the United States aged 6 to 19 engage in 60 or more minutes of strenuous physical exercise at least five days each week. The primary cause is that youngsters frequently become bored with various forms of exercise. Put your kids in a bounce house if you want them to go outside and engage in some physical activity; you'll see that the fun lasts far longer than you may expect. On a soft floor, children enjoy bouncing and falling. For them, this is a delightful game rather than tedious practice.
Kids will engage in an activity for a long time if they have a lot of fun. They will consequently profit from the activity's advantages. In other words, your children are approaching or exceeding the minimum amount of activity that is advised, which is a full hour.
2. Children can improve their balance and coordination by bouncing.
Gymnastics, dancing, running, swimming, and other physical activities all require the body to be in a balanced state to be done. Additionally, the physical development of young children needs to be improved. To aid in children's balance and coordination development, it is a good idea to engage them in safe physical exercise. The bounce and unevenness of running and leaping in a
bounce house
continually test the body's balance and coordination. Playing in the inflatable castles can therefore contribute to children's increased athleticism.
3. Bouncing has been shown to benefit mental wellbeing
According to a scientific study, physical activity can help lessen the signs of anxiety and sadness, which has made this claim rather strongly.
Bouncing in the inflatable castles
is a game that can be fun and cause laughter in addition to physical exercise. Positive effects on mood and happiness are excellent for kids' mental health.
4. Bouncing can help fend off numerous illnesses
Regular physical activity can lower the risk of developing health conditions like heart disease, cancer, diabetes, high blood pressure, osteoporosis, and obesity, improve cardiovascular and gastrointestinal fitness, strengthen bones and muscles, support neuromuscular function, and control weight.
Inflatable castle dangers
As the inflatable business gains popularity and expands, it becomes more frequent for kids to suffer injuries while playing in bounce houses. Yes, children may suffer harm if safety precautions are not taken. Falling and bumping into one another are common occurrences on bouncy castles. The humerus (upper arm), followed by the radius, is the upper extremity anatomical area most frequently harmed when children play in inflatable castles (forearm). Sprained ankles were the most frequent injury to the lower extremities, followed by distal tibia fractures (lower leg).
The most frequent injury causes are being struck by other kids, falling out of the inflatable structure, slipping off, and limb twisting. Most accidents happen when safety precautions are not followed, such as when several kids of various ages, sizes, weights, and skill levels play simultaneously in the bounce house or when there is no adult supervision. The usual advice is to adhere to the manufacturer's instructions to decrease the likelihood of injury with inflatable jumpers. By reading this article, learn how to keep your youngster secure in a bounce house.
The body can receive stimulation by jumping in an inflatable castle that helps to support health, improve bodily structures, and make pleasure and enjoyment possible. Please get in touch with Us to find a cost-effective option if you're purchasing a high-quality
inflatable play structure for your kids
!
Wonder World Jumping Castle - Blog Video
Benefits and Risks of Jumping on Inflatable Castles

Many families will hire a bounce house for their child's birthday celebration on the weekend, and parents will often take their child to an amusement park, county fair, carnival, or festival event to enjoy the fun on inflatable bouncers.